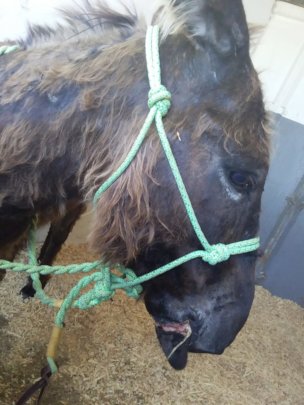 On Saturday the 11th of January the CoGH SPCA Farmyard and Horse Care Unit was deeply saddened to encounter a senior male donkey in dire need of our help.
Law Enforcement found Dougie (as we have now named him) as an abandoned stray – clearly ridden until he was no longer of use and cruelly discarded with his mouth worn down by the brutal wires used as a makeshift bit.
From the moment we stepped in to offer Dougie refuge and veterinary treatment, he has been the gentlest soul nudging up to staff for love and affection. We are truly dismayed to think that some people only saw Dougie as entertainment and not a living, feeling being that experienced severe pain each time the wires cut into his flesh.
Dougie is now resting in our farmyard and we are ensuring that his wounds and his mental scars will heal – we can already see his spirit renewing day by day as he relaxes into his new life with people who love him.
Farm animals like Dougie are very often viewed as nothing more than beasts of burden – this could not be further from the truth; like us they feel fear; pain; affection and love.
They need us to ensure their dignity is respected and with your help we will do our utmost to find a new beginning for Dougie where he only knows kindness.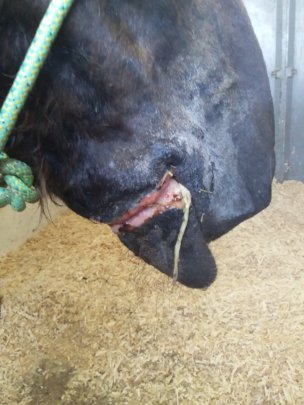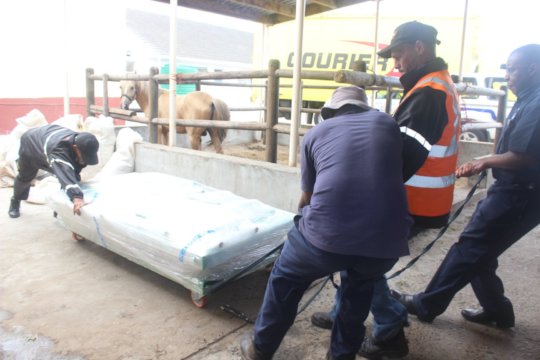 Because of your support and generous donations over the past year, we begin 2020 with an incredible gift - our Critical Horse Care Unit received a very special holiday delivery.
On the 25th December 2019 our much needed, brand new equine operating table arrived thanks to the kindess shown to us by supporters just like you. This vital addition to our Veterinary offering will bring so much hope to the numerous donkeys and large animals admitted into our Horse Care Unit & Farmyard for safe-keeping.
You heard our cries and worked with us to make this dream a reality - going forward many injured and suffering donkeys and equines will have a chance because of you!
Today we have 3 beautiful donkeys in our care which still need a home. As we try find their perfect forever homes, we are grateful to know that when more donkeys (or horses/ cows) arrive in need of surgery, we can now offer them the best possible chance at life-saving surgeries thanks to our equine operating table.
Please continue to share our work with family and friends so we can make a difference to these gentle beasts of burden and offer them sanctuary.
Thank you and wishing you a 2020 filled with abundance, love and peace.
Tara
We have done so much with your help - thanks to funds raised to date, we have been able to ensure at least 15 beautiful donkeys have had a second chance at a better life.
We saw Jack find his forever home and were blessed to be there when precious donkey babies, like little Mayday, were born in our farmyard last Spring.
These happy endings are only possible because you helped support these amazing animals and believed in our work.
We need you - there are so many donkeys still hungry, abandoned and abused.
When these animals arrive at our animal clinic we often need to provide life saving treatments to many of them - some have been beaten, some are malnourished and scared whilst others are potentially carrying a foal.
Thanks to your support we have been able to build a dedicated Critical Care Horse Unit for all of our equines - but we don't yet have an operating table.
Without this vital piece of equipment we won't be able to save as many donkeys and other equines that will need our help.
Please share our work with family and friends so we can make sure donkeys have a chance.
With your help we can make a difference to these gentle beasts of burden and offer them sanctuary.
WARNING: Javascript is currently disabled or is not available in your browser. GlobalGiving makes extensive use of Javascript and will not function properly with Javascript disabled.
Please enable Javascript
and refresh this page.