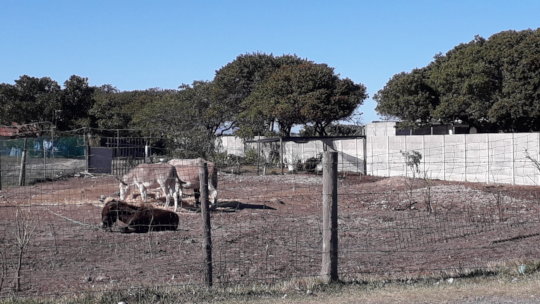 Hello from the team at the Cape of Good Hope SPCA,
We hope you and your loved ones are safe and healthy at this uncertain time.
The Corona Pandemic has brought the world to its collective knees- all as a direct result of animal cruelty stemming from the wet markets in China. We stand by our mission - that No animal should suffer. Animal Cruelty Must Stop.
Donkeys, for too long, have been subject to immense cruelty worldwide i..e. abused in farming; killed for the Chinese traditional medicine trade; exploited in tourism as transport.
We see their beautiful souls and work tirelessly to ensure they, along with other equines, are treated with dignity and respect.
We will continue to offer refuge to the countless donkeys in need of our services and care during COVID-19.
Support from animal lovers just like you, who trust that we will do what is right for all living creatures, enables our Inspectors to continue to protect the thousands of animals who still need us during COVID-19. From abandoned pets, injured wildlife or vulnerable farm animals in need of our care.
Thank you for being a voice for those that are unable to speak.
Animal Cruelty Must Stop. No Animal Should Suffer.
Tara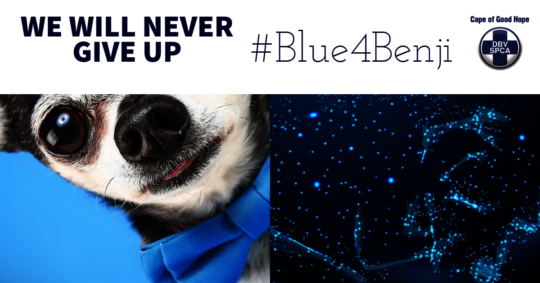 The wheels of justice have turned ever so slowly as CoGH SPCA Inspector Siviwe Noko has dedicated over 20 months to this heartbreaking case.
After at least 6 court date appearances,CoGH SPCA Inspector Siviwe Noko along with his colleagues SI Jaco Pieterse and Inspector Jeffrey Mfini are still determined to seek justice for the heinous crime committed against Benji.
Despite Inspector Noko's exemplary testimony and efforts to date, the case has been postponed due to the non-appearance of the accused in court.
Whilst we are naturally dismayed at this unsatisfying outcome, we are pleased to see the court observing the seriousness of this matter and as such a warrant of arrest has been issued for the accused should he not appear at the next court date set for March 2020.
We continue to call on the publics' support and ask you to let your pets wear #Blue4Benji as we continue to seek Justice4Benji.
Your support helps Inspector Siviwe every step of his journey.
Animal Cruelty Must Stop. No Animal Should Suffer.
Thank you.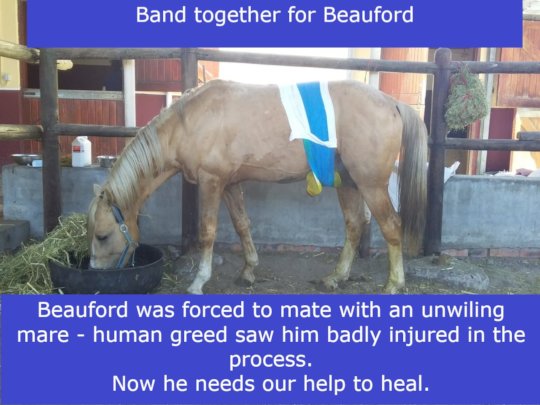 Beautiful Beaufort – a gentle, male Palomino- came into the care of the SPCA Horse Care Unit a few months ago after incurring a debilitating injury that resulted in a prolapsed penis. Someone tried to forcibly mate him with an unwilling mare and because of human greed he was gravely injured.
The SPCA Horse Care Unit team has been working around the clock with Beaufort over the past 3 months, all in a concerted effort to alleviate his discomfort and help reduce the notable swelling to enable him to retract his organ without issue. Due to the nature of his injury, treatment has been a lengthy process and it cannot be left unattended – this sees staff working with him up to three times a day cleaning, draining and bandaging his injury to prevent further infection.
Whilst our dedicated team and the kind Equine Veterinarians from Cape Vet Equine Practice have successfully managed to minimize the swelling and prevent infection to date, we still have one last challenge to overcome.
Beaufort requires a 10 cm portion of his penis to be amputated in order to allow it to retract into his sheath and resume normal function. This final operation is an absolute necessity to Beaufort's recovery. This operation must be conducted by a specialist to reduce the risk of long term complications.
The operation will cost $ 1 000 and this is where we need to call on our community of animal lovers to see it in their hearts to offer Beaufort a chance at a full recovery.
Beaufort is a very gentle soul and has been such a patient boy during all of his treatments, even during the extra sensitive process of draining blood clots, he didn't complain once. We would love nothing more than to see him pull through this ordeal. Beaufort has been surrendered to us and we want to get him into a loving home where something like this will never happen again.
Beaufort can still lead a full and healthy life once his operation is completed – if you are able to support him and contribute to his much needed treatment please help however you can.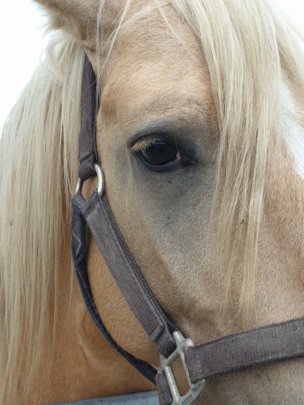 WARNING: Javascript is currently disabled or is not available in your browser. GlobalGiving makes extensive use of Javascript and will not function properly with Javascript disabled.
Please enable Javascript
and refresh this page.