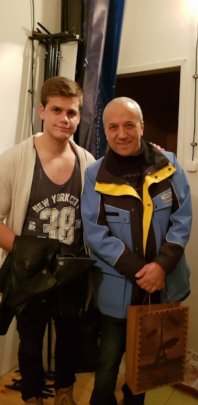 Dear supporter,

Our #StepforBulgaria team is excited to share with you the latest news with our ongoing mission to provide a Mentoring Program for Underprivileged Youth!
A happened since you last heard from us. In any given month of the year, our youths need help with trying to be successful at work or at school, having to move out of foster care and into private housing, looking for a job with no cushioned alternative, and many others. The past months have been full of all of these and then some. Today, we've chosen to tell you the story of one of our program's proud achievers - Zhivko.
Zhivko grew up without parents in foster care institutions outside of Sofia until his teenage years, when he transitioned to family-type housing on the outskirts of Sofia. Having known him since then, our organization has made Zhivko a key member of our mentoring program. He is among the mentees whom we've worked with for the longest, and he's been actively involved in many of the initiatives Step for Bulgaria has been organizing outside of the Mentoring program (for more information, check out our Teaching Life Skills to Children without Parents and our Fast-Track Career Development for At-Risk Youths projects).

As the story goes, Zhivko's mentor, Misho, helped him overcome many of the abovementioned obstacles that he's had to deal with. He had to deal with moving out and finding new housing in both 2016 and 2017, and last year he also worked hard to finish high school and to secure his first job. Relentlessly, with Misho's help, he has succeeded each time, step by step.
In an effort to help him save up money for university, Misho arranged to help Zhivko find a job with his friend working consdtruction in the UK in the fall of 2017. In the photos below, you can see him at the "deprtures" termnal at Sofia Airport, on his way to new dreams and aspirations. He began work practically as soon as he landed.
A couple of months passed and, although Zhivko enjoyed getting to know a new country and being able to afford a new guitar, he decided he missed home too much and he wanted to come back. Sure enough, in early December he bought a return ticket with his own savings and moved in with his girlfriend's family in a house on the outskirts of Sofia.
Despite the change in plans, it seems that Misho's mentoring has left Zhivko well-prepared for this move. As soon as he landed he had arranged for a job interview and took up work at a parcel delivery firm. To get to work from the outskirts of Sofia with no easy transport, he asked for our help in finding a car. Within two weeks, a couple of mentors were able to find him a good deal and, knowing him as a stand-up kid, signed a no-interest loan with him to purchase it using the funds they had pooled together. The latter was taken this March, with Zhivko on the way to work using this new car.
If all is well as it is now, it seems like Zhivko will be needing our help less and less (should we figure out a mentoring graduation ceremony?) in the future. We will make sure to keep in touch with him though, and follow up on the other developments in our Mentoring program. Who knows, maybe Zhivko might like to become a mentor one day himself. So do be excited for our next reports!
Finally, none of the above would have been possible with your support. If you like what we do, please consider donating again to our Mentoring program or to our new Give lasting 1:1 career advice to 50 at-risk teens project.

Thanks once more for allowing us to do what we do.

Best regards,

Dancho and the Step for Bulgaria team