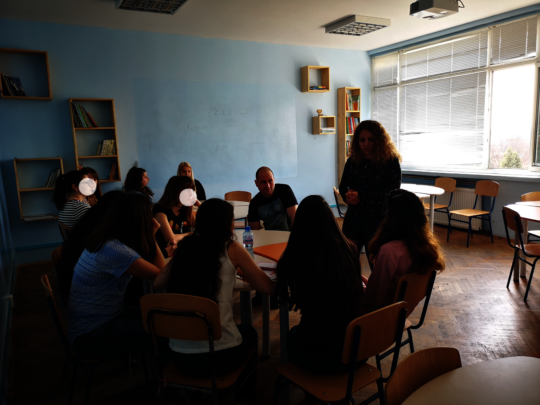 Dear friend,
Thank you for your support!
With your help, we've been able to launch the new season of Career Orientation Workshops for high-school students from underprivileged communities with a new group of professional volunteers from two partnering companies. In the past month, two workshops have already taken place with positive feedback from students and volunteers alike.
Over 20 volunteers from various professional backgrounds (from human resources management and development to finances and accounting, logistics and IT services) will be working with over 60 students in grades 10-12 (junior through senior year in high school) over the current school term to give them access to information and skills related to planning their path beyond completing high school.
The students are attending a public high school in a small town just outside of Sofia. Most of them come from low income families and have a rather limited perspective about their future education and career options, demonstrate low self esteem and a rather fixed mindset about their capabilities to be successful beyond the scarce number and variety of role models they see in their closed community.
The volunteers will be leading bi-weekly workshops on topics ranging from how they picked their careers and found the right organization to work for, to what they learned from failing and not giving up to how to prepare successfully for a job interview. Their key role is to inspire the students with their personal stories of finding happiness and success through trying out new things, being curious, working hard, clarifying one's true priorities and passions and never giving up in the pursuit of one's own path and calling.
Stay tuned for our future updates in which we hope to be able to share how the students' thinking and ideas about their future evolve as a result of the workshops and our volunteers' personal example. We are all excited to see these young people gain more confidence and better information about their future choices and ways to define and meet their goals.
With gratitude,
The Step for Bulgaria Foundation Team
We continue to build new structures from volunteer mentors. We also expand the reach of schools and settlements where career development workshops will be held. In the last quarter the high school in the town of Kostinbrod took part in a program.
We trained the new wave of mentors on 18/12/2018 in the company of Cargill Bulgaria.
The new volunteer-mentors will be committed to two classes, young people who graduate high school.
Young people from the last grades of their secondary education will get a great opportunity to get acquainted with mentors - volunteers with different professions. They will have the opportunity to touch on the actual application of the respective professions through internships provided by the partner companies.
We continue to working with five volunteers from the local community to provide 1-to-1 career training and skills development for children at risk in Bulgaria. We have included five of poor and geographically abandoned situations limited to lack of access to resources for professional development. Currently, we provide training for young people in order to join the working process of the social enterprise created by the foundation. Also currently working with young people and volunteers. Some of the youngsters have provided them with work abroad, and they are currently working in England and Germany but continue to work remotely with the volunteers who guide them in the process of adaptation.
WARNING: Javascript is currently disabled or is not available in your browser. GlobalGiving makes extensive use of Javascript and will not function properly with Javascript disabled.
Please enable Javascript
and refresh this page.