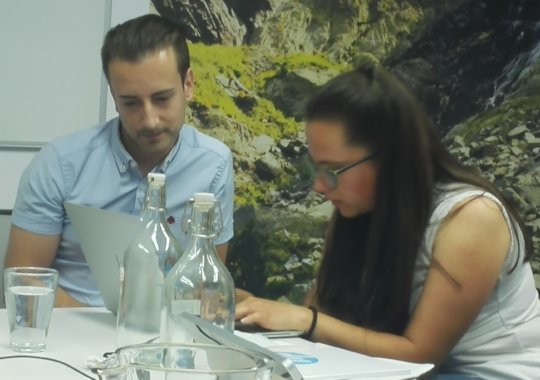 Dear supporter,

Our #StepforBulgaria team is excited to share with you the latest news with our ongoing mission to Teach life skills to children without parents!

We have 2 great news to report to you:
1. Thanks to your support we were able to dedicate resources, apply, and qualify for grant funding of a social enterprise, through which we will directly provide professional qualification to some of our youths and teach them - through experience - about life skills such as proactive communication, responsibility, initiative, etc. The social enterprise - a kitchen, cafe, shop, and social event space, will also host many new and educational workshops we plan to hold for the youths in the upcoming years. Just last week we rented a place for the enterprise! It's a fixer-upper though, so stay tuned for more updates in the upcomng months :)
2. (And the headline of this report) We successfully partnered with, and are now hosting Life Skills workshops directly with Social Employers (3 of them so far - HP Inc., Cargill, and ServiceSource). For their part, the employers provide us with professional volunteers from across a variety of disciplines and a venue to organize Open-Door events with them (some even pitched into our other programs too!) in which we can teach the youths life skills as applied directly to a workplace environment. For our part, we personally interview and prepare all of the volunteers for working with the youths, we organize the programming and the facilitation of the events, we bring the youngsters (voluntarily!) to attend, and we track and report on the outcomes :) Here is one:
On June 6th we held our first Open Day session of the type, aimed at teaching high schoolers Presentation Skills. The workshop was held at the office of HP Inc., a computer hardware company, which attracted participation from 4 of the youths we had been in touch with. In all honesty, we will have to work on the number a little bit - it was hard to motivate more youths to "apply" for the Workshop by submitting a draft CV, yet, it is what demonstrated their commitment to the event and what made it work. On the flipside, having 4 youths work with the 4 volunteers we had engaged for the event allowed us to provide individual and in-depth attention to each one of them.
In the photos, you'll see one of the youths, Desi, first working on remodeling the CV from her application with one HR recruiter, then conducting a mock interview with another. The workshop included not only these, but also a teaching session on how to present oneself orally and in script, as well as extensive personal feedback from each volunteer Desi and her peers came in contact with. As a proximate indication of success, all 4 of the youths had the marked motivation to apply for our next workshop too! Stay tuned for our next report to see if we'll be able to follow up on their motivation :)
Until then, thanks once more for allowing us to do what we do.

Best regards,

Dancho and the Step for Bulgaria team

P.S. If you continuously like what we do, please consider becoming a recurrent donor! Check out and share our other projects, too, at Mentoring Program for Underprivileged Youth and Fast-Track Career Development for At-Risk Youths!