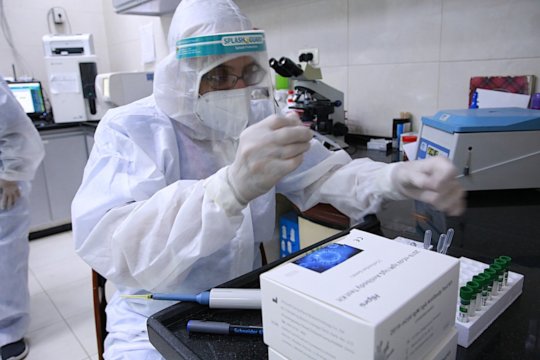 The COVID-19 outbreak in Gaza neighborhoods was first reported on August 25th, and on August 31st, through the mediation of Qatar, Israel stopped bombing Gaza and allowed shipments of fuel while the Gaza government promised to stop the launch of incendiary helium balloons. When the outbreak happened, the whole Gaza Strip was immediately put under emergency curfew leaving families without electricity, and therefore without water, most without food, in the summer heat. Now, the pandemic is raging in the Northern and Gaza Governorates (Gaza City area north) which are under strict stay-at-home curfew while the middle and South (Rafah area) are allowed to go out from 8am-8pm.
As of today, Sep. 9th, 27,919 cases of COVID-19 have been identified in the West Bank and Gaza with another 8,295 cases in E. Jerusalem. Israel has 137,565 cases and the numbers are rising in both Israel and Palestine. Today, there were 140 new cases reported in the City of Jerusalem, 102 in the Hebron Governorate, and 87 in the Gaza Strip. From Ministry of Health reports, Gaza was testing less than 1% of the population each day — so there's no way to know the scale of the outbreak. Everyone fears that with 6000 people per square km, the virus can spread like wildfire.
______________________________________________
We know how deeply you care and how much you want to help — and we ask you to hold those thoughts till next week when the GlobalGiving Little by Little Bonus WEEK begins.
Starting at 9am ET on Monday, Sep. 14th till 11:59 ET on Friday, Sep. 18th, GlobalGiving will be matching each donation up to $50.00 by 50% — and what's more, GG will match recurring donations after 4 consecutive payments up to $200. Please mark your calendar to give, starting at 9am ET on Sep 14th. Please share this link, https://www.globalgiving.org/projects/palestine-emergency/ with friends to give them the opportunity to give too.
______________________________________________
So far, our Palestine, We Care: COVID-19 Relief Trust has raised $98,110 USD. Over half this amount was matched by a 1:1 matching grant from the Taawon Foundation, allowing us to grant a total of $135,000 to eight Palestinian Non-Governmental Organizations (NGO's) in the West Bank and Gaza. These grants supplied:
PPE's, COVID-19 testing kits, and medicines to two NGO hospitals in Gaza, the Ahli Arab Hospital and the Al Awda Hospital, and
Over 900 food boxes and hygiene supplies to families in Gaza through our four partner NGOs there, and two new partner NGOs in the South Hebron Hills and in Bethlehem.
To see more about our PPE and food distribution, please watch the two short films linked to this report.

We want to tell you more about the COVID-19 Rapid Test Kits and how they are being used.

Al Awda Hospital ordered 505 COVID-19 IgG/IgM rapid test kits that provide results in 30 minutes. The test kits made it through the blockade and arrived in time at Al Awda Hospital, about a month before the outbreak. Those kits and the PPE's are now making it possible for Al Awada Hospital to provide emergency, urgent surgeries and maternity services as the main maternity hospital in the northern region of the Gaza Strip — all this while keeping their staff safe.

A quick google search describes the IgG/IgM rapid test as 'a blood test designed to detect antibodies (immunoglobulins, IgG and IgM) against the coronavirus that causes the disease called COVID-19. Antibodies are proteins produced by the immune system in response to an infection and are specific to that particular infection. They are found in the liquid part of blood specimens, which is called serum or plasma, depending on the presence of clotting factors. IgM and IgG may either be ordered together or separately.
Having an antibody test is helpful if:
your health care provider believes you may have been exposed to the coronavirus which causes COVID19 based on your current or previous signs and symptoms (e.g., fever, cough, difficulty breathing);
you live in or have recently traveled to a place where transmission of COVID-19 is known to occur;
you have been in close contact with an individual suspected of or confirmed to have COVID-19; or
you have recovered from COVID-19.

Haneen Wishah, External Relations and Reporting Officer for Al Awda Hospital, explained how they are keeping staff and patients safe:
"Al Awda Hospital requires an IgG and Igm test for every patient who arrives at the triage point with signs of infection, e.g. with fever. Each test requires that we draw blood and then process the samples at our laboratory here at Al Awda Hospital. Patients testing positive are transferred to the central lab of the Ministry of Health for a nasal COVID-19 PCR test."
"When the COVID-19 emergency was first announced in Gaza, we at Al Awda Hospital divided our staff into four groups with each group staying over at the hospital for 10 days and nights straight. They can't go home. We test each member of our staff team when they first arrive, midway after 5 days, and when they finish the 10 days and are ready to go back home."

So what's needed next?

From Haneen, "The thing is, we have the staff all together for 10 consecutive days. We ask your help to:
Provide healthy meals to the healthcare workers, with lots of fruit and vegetables to strengthen their immune systems;
Please send 2000 rapid test kits, a four-fold increase; and
A new round of PPE's including 6000 head shields is needed.
Meanwhile, our Social Service NGOs ask your help to deliver food and hygiene boxes to 200 families each, focusing on families with disabled, and women-run households.

These are important, big goals. We can do this. Please set your alarm for giving on September 14-18th, and please ask friends to join us.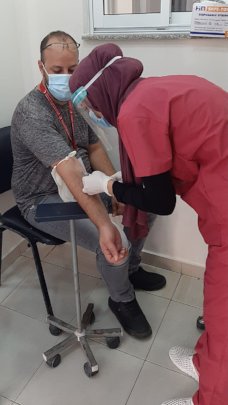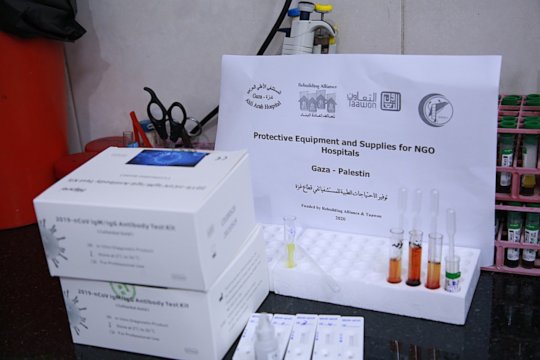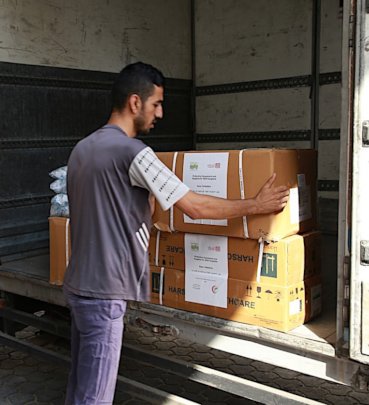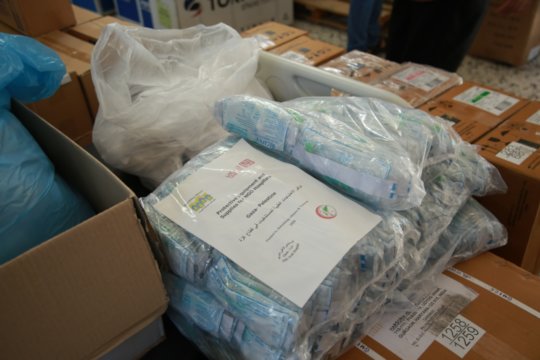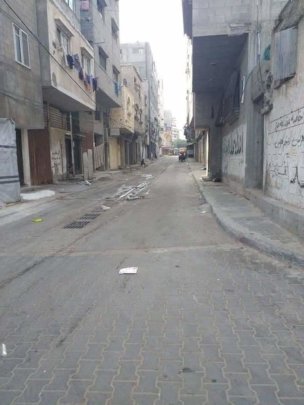 Links: