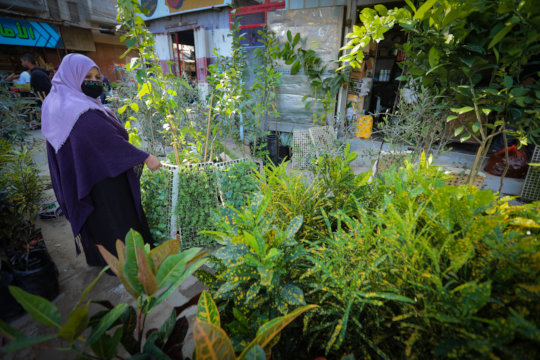 I'm so happy to be writing another report for you about Gardens. Goats, and More. I joined Rebuilding Alliance in March, and this is the first project I helped build from the ground up. This upcoming December 1st is also my first time participating in Giving Tuesday! I'm so excited, and I hope you'll join us. More information on that below.
Since we have yet to meet our project's fundraising goal, Rebuilding Alliance started with a pilot project with one of our local NGO partners, Women Programs Center Rafah (WPC-R). They selected 4 families as beneficiaries. According to executive director, Mrs. Najah Ayash, "Families who were already clients of the Center were contacted by phone to fill out an application. Their qualification for the program depended on their poverty level, availability of space for cultivation and raising sheep, and practical experience."
Because WPC-R has done similar projects in the past, families will receive expert guidance to make sure their crops and animals can flourish for a long time. Per our last report, our field visit with the Agricultural Development Association in Palestine (PARC) emphasized that expert support is essential to the success of small-scale agricultural projects.
A few weeks ago, Mrs. Najah personally visited all the families to check on their well-being and see the space where they will cultivate their crops and livestock. She determined that some families have enough space for sheep. Because of price and maintenance, sheep will be much more practical than goats. Mrs. Najah then shopped for gardening supplies with two of the beneficiaries. One of the beneficiaries pictured here, Rania, also works at WPC-R to help support her family as the only breadwinner. We're hoping this training will lead her to become the project manager as the Garden and Goats program expands.
Add Giving Tuesday to Your Calendar
Please keep these families in your thoughts as Giving Tuesday launches on December 1st. GlobalGiving is distributing $1,000,000 across all participating projects. Funds will be distributed proportionally based on final fundraising totals. In other words, projects with more supporters will earn a bigger slice of the pie. We invite you to join us for this wonderful opportunity. All recurring donations will be matched 100%!
Thank you for your support,
Sofia