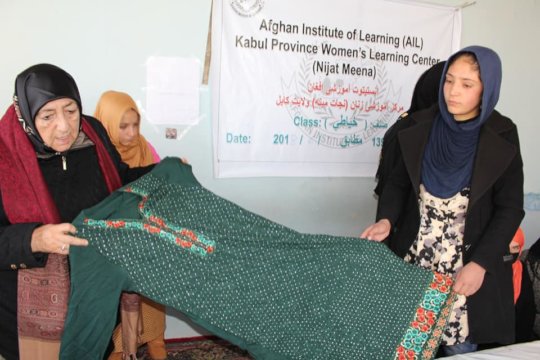 We are providing education to a growing number of women and girls of all ages and backgrounds. In the first two months of the year, we brought education to over 9,236 girls in subjects such as literacy, English, Arabic, and computers. We have also provided these women and girls with ample opportunities to gain skills in sewing, tailoring, carpet and silk weaving, macramé, and painting. All of these skills open doors to careers and other opportunities to make an income.
In addition, our Fast-Track program has opened doors to women and girls by providing them with flexible schedules to learn the basics as fast or as slow as they are able to. We wish to thank you all for your generosity and compassion in making these hopeful changes possible!
Habiba said, "I was born in Ali Khail village to a farming family. The first three children of my family were girls and the next three were boys. I am the oldest girl. I could not go to school and learn knowledge because in my village there is no school or place for education. My sister and I worked with our father on the farm. We earned a little money for life necessities.In the end the bad situation of life and future education of my brothers compelled us to leave our birthplace and move to Mazar e Sharif city. My brothers can now attend school and get an education. I am happy for them. Knowledge can stop a person falling into poverty. We have spent four years in Mazar e Sharif but I cannot go to school.A few months ago, I enrolled in a literacy class at the AIL center and after two months I am able to read and write! I would love to go to school if I can, that is my hope."
Thank you for your support.
News
Dr. Yacoobi joined with high level national and international delegates in the "Seville Commitment" - Supporting Localization Efforts for #SDGs. She said, "AIL has provided SDG services to the most marginalized and disadvantaged for 25 yrs. In my talk I emphasized it is essential to work with local governments and provide resources to local NGOs who are doing good work. Replicate excellent SDG focused programs so No One is Left Behind!"
AIL is working towards: SDG Goal 4 – Ensure inclusive and equitable quality education and promote lifelong learning opportunities for all.