We are delighted to share news of our work to expand the provision of the Carers Time Bank.
On Wednesday 18 October 2017 we launched an expansion of our work in a new area of London – the London Borough Hammersmith & Fulham, with an event at the Polish Social and Cultural Association.
Here, local Hammersmith & Fulham carers came together to hear from the new time broker, Rose Edwards, and to learn more about the Time Bank and what it can offer.
The local carers attending were able to meet each other, enjoy a creative activity, have a relaxing hand massage and share their skills.
At the event 13 carers registered to become a new Time Bank member.
The expansion of our Time Bank project into Hammersmith & Fulham wouldn't have been possible without your kind support.
Now the project has launched the members will meet regularly on the first Thursday of every month for a coffee morning. The first of these was on Thursday 2 November.
At these coffee mornings Time Bank members get updates on the project, plan skill shares and arrange future Time Bank events and activities.
The group will meet again on Thursday 7 December 2017.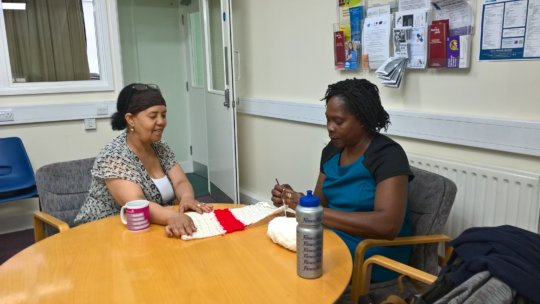 It's happening
Last November we set out ambitious plans to ensure that more people could access our unique Carers Time Bank project.
With your generous support, we reached our funding target and we are now delighted to be able to share the news that the project has started.
This month we have recruited a new Time Broker who will be working one day a week to help expand the Time Bank's provision across central London. This role we will be delivered by Rose Edwards, who has been working with Carers Network in other capacities since 2013.
We are confident that this project is going to be a success and everyone at Carers Network wants to take this opportunity again to thank you for helping make what we thought were quite ambitious plans, into a reality.
We look forward to updating you on progress with this project in our next report.
For those that have supported this project from the start, and for those that have generously supported us since our last report, we have some fantastic news to share –
we have exceeded our original target of £6,000!
This means that we will be able to begin delivery of our work to expand our successful Carers Timebank project to support 50 more carers from across central London.
We hope to launch this new piece of work in Summer 2017 and have been actively scoping the best way of achieving this. We will also be consulting with local carers ahead of and during Carers Week (12th June – 16th June) to ensure that it is successful and meets the needs of those we work so hard to support.
We really do want to thank everyone that has supported this great project and has helped make these plans, that carers have been telling us they would like for so long, become a reality. This has been the first crowdfunding campaign that Carers Network has attempted, with admittedly a little trepidation, so we are delighted that it will result in more carers being able to access the opportunities and support that they need.
Thank you once again for your amazing support for this project. We are confident that it will make a real difference to the lives of local carers. We are still in the early stages of implementation, with us only making our target in the last week, so we'll make sure to keep you posted with the project's progress.
Also, keep your eyes peeled for our future work on GlobalGiving, it is our mission to support unpaid carers and change lives across London. This mission continues and we hope that you can help us achieve this.
WARNING: Javascript is currently disabled or is not available in your browser. GlobalGiving makes extensive use of Javascript and will not function properly with Javascript disabled.
Please enable Javascript
and refresh this page.