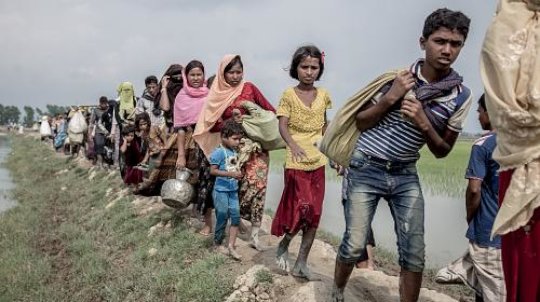 COX'S BAZAR (August 20, 2018) — As refugees from Myanmar complete one year in Bangladesh, their return to Myanmar with safety and dignity still remains a major concern for CARE and other humanitarian organizations. Many, including the refugee population, have already voiced their concerns for not being more involved in the return negotiation process.
"CARE calls out to all parties involved to ensure refugee returns are voluntary, informed, respectful, and conducted with safety and dignity. The key principle of 'non-refoulement' must be upheld and returns should commence only if there are no significant ongoing security risks in the area of return," stresses Zia Choudhury, country director of CARE Bangladesh.
Since August 25, 2017, over 700,000 people from Myanmar have fled to Bangladesh[1], following an escalation of violence in Myanmar's Northern Rakhine State. An estimated 919,000 refugees are now living in Cox's Bazar, Bangladesh, close to the Myanmar border.
In response to the recent agreement on the return of refugees signed on November 23, 2017 between Bangladesh and Myanmar, CARE is urging both the governments to ensure safe return of the refugees.
Given the extreme levels of violence refugees have experienced, returns in the near future will be extremely challenging. "We will go back if our homes are rebuilt like they used to be before they were burned down; if we are given citizen rights as Rohingyas and as Muslims, and if we are given the freedom of movement,"says Omar a 22-year-old refugee living in Potibonia, Cox's Bazar.
Most of the refugees who fled Myanmar since August 2017 are traumatized and lost everything. Many lost their family members.
"It was a Thursday night, and we heard some distant gunshots. But we didn't bother much and went to sleep. Then in the morning they came and started burning down all our houses. We only managed to escape with our lives. People who couldn't leave their homes were burnt alive. I don't even know how many people died, so…so many," tells Khatiza (40), a refugee living in Cox's Bazar.
CARE urges both the governments to ensure that the challenges associated with safe returns are recognized in the ongoing negotiations. One way of doing this could be to consult with affected communities to make their voices heard. Also a transparent process should be followed at all times so that humanitarian agencies are aware of all major developments regarding safe and successful returns.
"Since my husband is not alive, life there (in Myanmar) will be very difficult. I won't be allowed to work and it will be very difficult for me to support my children,"shares Tosmin, a 30-year-old refugee whose husband went missing while going to work in Myanmar and now assumed dead.
The speed and scale of the influx of refugees has resulted in a critical humanitarian situation. The vast majority of refugees are reliant on humanitarian assistance for food, shelter, health and other life-saving services. Despite this, most refugees are reluctant to go back since the situation and quality of life back home in Myanmar would be worse in comparison.
"We feel safe even if we leave the doors open, but back in Burma (Myanmar), even locking the doors failed to make us feel safe. We are able to live here with peace," shares Fatema, 27 years old.
"We couldn't move freely, we had difficulty even going to the market for basic supplies," adds Elias, 22 years old.
CARE has been active on the ground since the early stage of the refugee crisis and directly reached nearly 250,000 people by providing support and services as to health and nutrition, shelter, water and sanitation, site management, protection of women and girls against gender-based violence (GBV) and distribution of food and non-food items.
"CARE's work with refugees globally underlines the importance of ensuring that all returns must be based on well-informed voluntary decisions and international standards must be upheld at the time when a voluntary return of refugees becomes possible. Security must be ensured at the area of return before returns are commenced," says Choudhury.
[1] ISCG Report, July 19, 2018
Links: