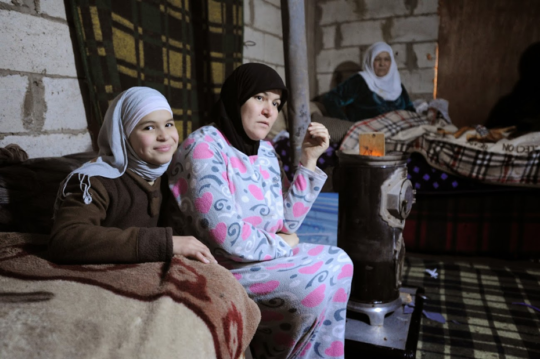 Thank you for your commitment to supporting CARE's Syria Crisis Humanitarian Fund. Below are updates on CARE's response to this humanitarian crisis:
Now approaching its fifth year, the war in Syria continues to affect about 12.2 million people – more than half the country's pre-war population – including 5.6 million children. More than 240,000 people have been killed, including 12,000 children. More than 1 million people have been injured and 7.6 million have been internally displaced. As of December 2015, nearly 4.3 million Syrians were registered as refugees in Turkey, Lebanon, Jordan, Iraq and Egypt. Severe funding shortfalls for humanitarian assistance in the Middle East are likely to contribute to increased numbers of refugees returning to Syria, as well as increased onward migration to countries in Europe and beyond. Accordingly, 807,337 Syrian refugees have filed asylum applications in Europe.
Despite support by CARE and other humanitarian organizations, there are still major gaps in funding the response to this crisis. Funding shortages repeatedly force the UN World Food Programme (WFP) to reduce food voucher support and restrict the number of recipients. As a result of funding shortfalls, 1.6 million refugees have had their food assistance reduced in 2015 to $13 per person per month for those that are most vulnerable. This equals less than 50 cents a day per person. In total, some 8.1 million people in Syria are estimated to be food insecure. Additionally, between 30 percent and 50 percent of the population in Syria suffer from psychological distress. Other major gaps in crisis response include access to protection services and shelter, water and sanitation, and formal and informal education.
How is CARE Responding?
CARE launched an immediate response to the Syria crisis and continues to extend our support to families in need across the region through various means of support. Specifically, CARE works to meet shelter needs, particularly in the icy winter months. Food, cash and voucher assistance and skills training provide crucial support to those who have lost livelihoods and savings. Our water, sanitation and hygiene teams help protect health in precarious circumstances. At CARE's urban and camp-based community centers, Syrian refugee volunteers and staff provide solidarity and services, including recreational and educational activities for adults and youth. Targeted support for women and girls include sexual and reproductive health services, and special interventions to address the elevated risk of sexual and gender-based violence. Finally, CARE's assistance also extends to host community populations whose resources have been severely stressed by the refugee influx. CARE is also beginning to provide support to Syrian refugees in Europe, including the provision of food, water and other assistance to Syrians arriving in Serbia. In total, CARE's response has reached nearly 1.5 million people.
Some of the specific accomplishments to date are as follows:
In Syria, CARE's response has reached 797,528 women, men, girls, and boys affected by violence and displacement. We are mobilizing all efforts to reach a larger number of people, in particular those trapped in difficult to reach areas, with high-quality programming.
In Egypt, CARE launched a new education program to support 36 public schools and four Syrian learning centers in Greater Cairo and Sharkia.
In Jordan, there are 26,342 people living and receiving services in Azraq refugee camp. CARE is also providing family cash transfers to help families buy winterization materials to prepare for the upcoming cold season.
In Turkey, CARE is working to train volunteers and involve them in providing other refugees with information on psychological first aid, hygiene promotion, and early marriage and sexual violence prevention.
In Lebanon, food baskets were distributed to 900 families, and 245 families have received cash for rent support. Additionally CARE is providing cash support to 1,060 families each month.
Looking ahead, CARE remains committed to helping ensure refugee families have protection, shelter, food, clean water, and that they eventually can recover their livelihoods.
Human Interest Story
Jabi*, 12, (pictured above) remembers her life in Syria before the conflict. Jabi's family, her mother and brother, fled to Lebanon one year ago with her aunt, uncle, and grandmother. A year earlier, her father had been kidnapped by an armed group. They have not heard from him since.
The once middle-class family now relies on charity to assist them in purchasing food, paying rent, and covering medical expenses. "Without CARE and the World Food Programme we couldn't do it," Jabi's aunt, Samira, says. CARE has been providing the family with a subsidy of $175 each month for the last seven months.
They worry, however, that expenses will increase when they are required to renew their visitor visas, now every six months. Renewal of Lebanese visas cost $200 per person. "Some people go back to Syria because they cannot pay for the visa. It's too expensive and there is no money," says Halima.
Jabi, who completed fifth grade, loved her studies. "She should be in eighth grade now, but she hasn't been able to attend school," her mother explains. The costs of education are too high for many refugee families, who cannot afford the expense of transportation, books, or other fees.
To pass the time, Jabi has participated in short courses for French and English language training, provided locally by aid agencies. She wants to attend school again, but for now she must wait. Still, she has a goal, a dream. "I want to be a doctor when I grow up," says Jabi. "In Syria I used to sit with my cousin at her work. She was a pharmacist."
Jabi hopes the future holds something better. "I want this war to end," she says. "I expect the world is so much bigger, with so many more people. With time, the world changes. I hope the war will be over one day."
*Names have been changed to protect the identity of these individuals.