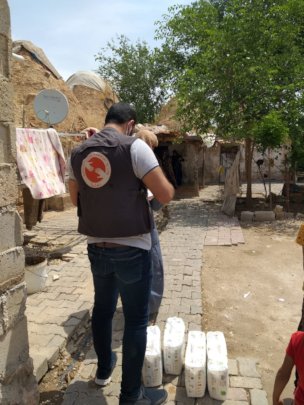 As Support to Life, we are trying to address the ongoing and upcoming issues and to preserve the ability of people most vulnerable to the pandemic to meet their basic needs and access to social safety nets and humanitarian assistance in difficult times.
Crisis times affect the most vulnerable groups of society the most. Covid-19 pandemic and restrictions in life that come with the outbreak increase the needs and risks but limit access to services and essential needs.
The number of Syrians who found refuge in Turkey stands at 3.6 million and roughly half of these are children. With existing hard living conditions, refugees living in Turkey are one of the most affected groups by the outbreak. Because of the outbreak, 87 % of Syrians indicate that someone in their household lost their job and 81 % of Syrians can not satisfy basic needs most likely as a result of losing their job.
Refugee mothers' lives have become even harder under the pandemic because of extra housework, the limitations that come with precautions and additional economic risks. That's why we focused on them to ensure timely and adequate provision of relevant services, keep them informed about Covid-19 risks, vulnerabilities, and precautions that need to be taken.
Sanlurfa is one of our working fields and being in the top 5 in the number of children, children related needs become very important in the city. To support life and meet the needs, we first conducted a needs assessment along with the public authorities. We identified vulnerable families having difficulty accessing basic needs and diapers for children. Refugee mothers Support to Life has come into contact with received care packs and diapers as they needed.
As Support to Life, we try to identify the problems and develop effective solutions to build a future together. We try to be there for refugee mothers, keep them informed, define and deliver the needs. With your support, we'll keep on addressing the basic needs of vulnerable communities like the Syrian mothers.