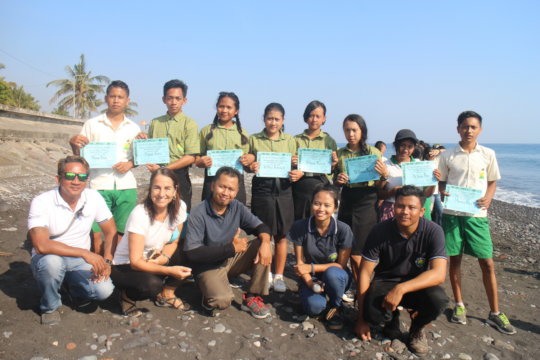 Every year from September to November is great for our students but this year has been exceptional, as we report below.

Student Council (OSIS) establishment, 21st September
A new initiative of EBPP students who, through their EMpower program, decided to seek solutions to many problems, especially school dropout and child marriage, that still happen in their schools, and were inspired by the Regional Children Forum of Karangasem, FAD (Forum Anak Daerah), to form a student council after the FAD presentation last April about children's rights convention and children's organizations, including OSIS. In order to make a memorable election, the EMpower Team initiated a camping weekend, located at Candi Gora Temple, Tianyar Timur on Saturday 21st September, when all EBPP high school students gathered for their first camping activities, starting with cleaning the area, praying and then, erecting their tents. As this was their first time camping, they really struggled – but had great fun - building the tents. The weather was much hotter than their mountain village, BUT the sun's sting couldn't lower their spirits!

Mount Barker Community School (MBCC) Annual Visit, 24th September
This year we took their 9 students and 3 teachers to EBPP Pengalusan School. They divided the activities into four groups, rotating every 30 minutes. Group one: Guessing games using play dough, guessing who am I? and other fun games played with artificial hands (tiny hands), challenging them to play ball and tie shoelaces with these artificial hands!! Group 2 was twister games and board games, dealing with numbers. In Group 3 was playing the flute and fun Uno. Finally, group 4 was a sports activity. The most fantastic activity though was creating EBPP students' individual profiles! EBPP students then taught bamboo weaving, music and Balinese traditional dance to show and share their talents with MBCC students, especially in bamboo basket weaving skills.

Ari Rudenko' Prehistoric Body Theater, 14th – 15th October
Ari Rudenko, artistic director and founder of Prehistoric Body Theatre introduced the dinosaur dance to our students. He and his amazing Indonesian dance team through gave a 2 day workshop illustrating and teaching EBPP students prehistoric dances created by Ari to accompany his Ghosts of Hell Creak historic documentary – a dance about a prehistoric animal (acheroraptor).

ISKL (International School Kuala Lumpur) 22nd - 23rd October
Tuesday 22nd October, the first of a 2 day sharing visit by 16 tenth grade students and 3 teachers from ISKL, led by Jeffrey Samson who'd visited earlier this year. We took them to Pengalusan School where ISKL students divided into three groups: one learnt music with EBPP's Volcano Band, another practicing traditional Balinese dance, and the 3rd were taught fine bamboo basket weaving by our girls and the coarser weave by our boys. They rotated every 30 minutes so all got involved. On 23rd October, ISKL students piled into the back of EBPP's 4WD pickups for the 25 minute trip to Jatituhu school - located on Mount Abang slopes - and directly got to work with EBPP students repairing steep steps from the road to the school, repairing the school ceiling, painting all classrooms and the library, all materials costs sponsored by ISKL! Language was a challenge due to EBPP students' limited English - but they managed to communicate for cooperation. Teamwork with the groups and students on different activities ended with a job super well done!!

10 Bali Hindu Temples "Tirta Yatra" 2-days Tour
On October 25-26, 2019, a total of 210 students, tutors and EBPP staff took a road trip in 6 buses around Bali island to hold joint prayers at 10 main Hindu temples: Silayukti, Goa Lawah, Sakenan, Uluwatu, Tanah Lot, Rambut Siwi, Jaya Prana, Pulaki, Melanting, and Ponjok Batu Temples. The field trip was amazing and tiring at the same time, we're still happy and enjoyed every moment at each temple. At 3.15pm on 26th October, we arrived at EBPP Ban Office and went to our respective home happily. This spiritual field trip gave us a very special and unforgettable experience and we're looking forward for the next one.
We could not have achieved the above without your amazing support, Global Giving crowdfunding donors. Please continue your support and help us to keep teaching, empowering and motivating our Jatituhu and Pengalusan students. Donate on #Giving Tuesday, 3rd December and get donations MATCHED by GlobalGiving!