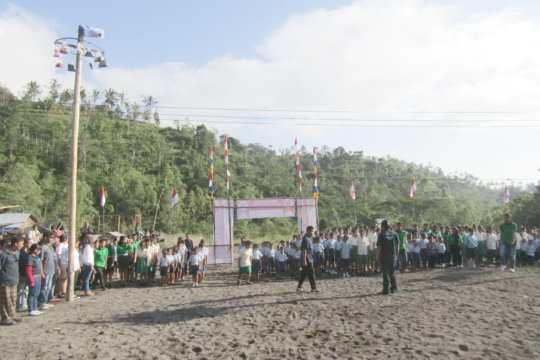 School is an important place for children to study and share their knowledge. Because education is so important to the intellectual and social growth of a child, EBPP raised funds using a crowdfunding campaign to improve Desa Ban's Jatituhu hamlet where 12 children are reaping the benefits and thriving from their studies more than ever.
Through the help of an EBPP Art Teachers, children are now able to use art supplies to turn plain white paper into a beautiful work of art. They combine many colours to make incredible pictures. Only those children who enjoy art as a hobby and wish to work at it daily achieve such a high standard of artistic talent – it's something they must work at and dedicate themselves to.
August is the happiest month of the year for children of EBPP because we celebrate Indonesia's Independence Day on August 17th, 2016. This year was the 71st Independence Day and the event was very fun and successful for everyone who attended. The day allows children to participate in competitions and races as well as perform music, dance and drama.
Before the event begins, all students receive a nutritious breakfast which includes bread and fresh fruit. Afterwards, everyone gathers to attend the flag ceremony and participate in competitions including: chess, 100 metre sprint, potato sack races, and Panjat Pinang (traditional Indonesian Independence Day game which has people climb up a slippery pole by working together in order to win the prizes placed at the top – it's always a highly anticipated event)!
During the performance part of the day, children participated in music, dance and drama and this year they were very entertaining while also being educational. They started with a series of sketches entitled "EMpower". These skits were about nutrition, reproductive health, and how to operate computers. Then, the traditional Balinese dancers wowed the audience with their incredible routines. Afterwards, there were musical performances that included singing and playing instruments. One of Jatituhu student, Ni Nyoman Sudarmi, performed "Merak Angelo" (Peacock) Balinese dance.
In this annual EBPP Independence Day celebration, some of our Jatituhu students were winners in the followingcompetitive events: I Kadek Suryanata came FIRST in our inter-schools chess competition; Ni Nengah Maga Ani, besides being good in Balinese dance, she also came second in the 100 metres girlsrace;I Ketut Rudi came 4th in for 100 metre boys race and Ni Komang Parti, Ni Wayan Sukerni & Ni Kadek Sudarmi all got first place in the clogs race!
At the end of the events, trophies were presented to all the schools, based on their scores from the different events and then all were given hygiene kits comprising towel, soap, toothbrush and toothpaste, all donated by Bali Dynasty Resort. Finally all of the children helped clean up the plastic waste that had been left after the festivities before heading home.