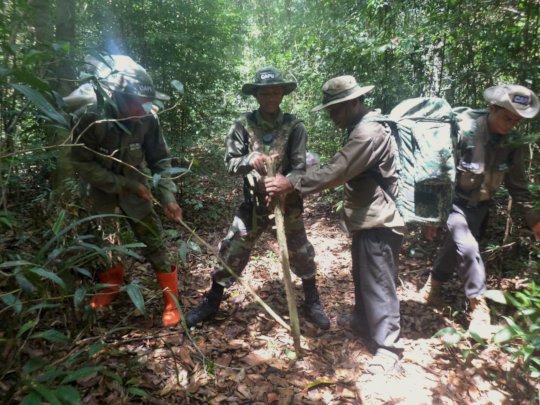 One of the most significant threats to the important wildlife of the Cardamom Rainforest is poaching using snares by commercial hunters coming from outside the region. Wire snares are easy to make and conceal but have a devasting impact on wildlife as they are non-selective and able to kill or disable a wide variety of species. Though snares are often set for wild pigs, to service the illegal wildlife meat trade in urban restaurants, they kill or maim many non-target species including elephants, Asian wild dogs, and bears. Many snared animals are simply left to die and rot in the forest. Recent camera-trapping has shown that more than half of the elephant calves in the landscape show signs of snare injuries to their trunks or legs.
Members of the Chi Phat and Areng Valley communities have stepped up to end this concern through creating Community Anti-Poaching Units and implementing targeted snare-removal patrols. The community rangers operate in villages where Wildlife Alliance is supporting Community-Based Ecotourism (CBET) as this is where communities see a direct financial benefit, through tourist visitors, in safeguarding their wildlife and biodiversity. As such their motivation to support conservation efforts, and patrol to remove snares, is high. Before these villages became CBET programs, they were the centers of illegal activity, particularly poaching and wildlife trade.
The community rangers are trained on how to patrol efficiently and effectively and how to detect and remove snares. Each unit patrols an area of approximately 10-km radius that they identify as facing high snare threats and are key areas for elephants. CAPU team members will also be trained on basic animal welfare and handling so any live animals found in snares can be safely transferred to the Wildlife Alliance managed Wildlife Release Station on the edge of the Cardamom Rainforest Landscape. The empowerment of these communities has transformed them from poaching hotspots to wildlife guardians.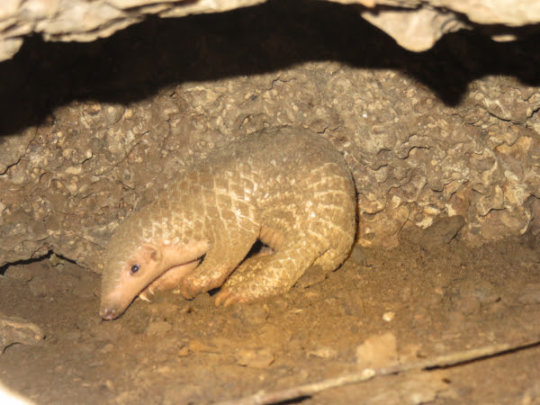 In September the keepers at our Wildlife Release Station were delighted to discover that resident pangolin, Lucy, had given birth! Lucy was rescued after losing a front and hind foot in a poacher's snare. Thankfully, she has recovered and avoided being added to the statistic that over a million pangolins have been illegally traded in the last decade – resulting in them being the most trafficked mammal on earth. While Lucy has stayed under the watchful care of her keepers, she has mothered multiple pups that have since been released into the wild.
Father, Thom, was brought to the Wildlife Release Station in May after Wildlife Alliance rangers rescued him from the hands of a poacher. When ready he will be released back into a protected area of the Cardamom Rainforest. In the meantime, he is keeping a watchful eye over Lucy and their new baby.
Once the pup grows up, our keepers will prepare her for a life in the wild and will track her following her release. For now, they continue to provide ants and termite mounds from the forest to make sure the little one grows up learning how to forage. Sunda pangolins are critically endangered – the highest extinction warning given – due to their high value in the wildlife trade. Every pangolin we can release back into the wild and keep out of the hands of poachers is vital to the survival of the species.
Thank you for helping us provide permanent care for Lucy and release any pup she mothers through your generous donations!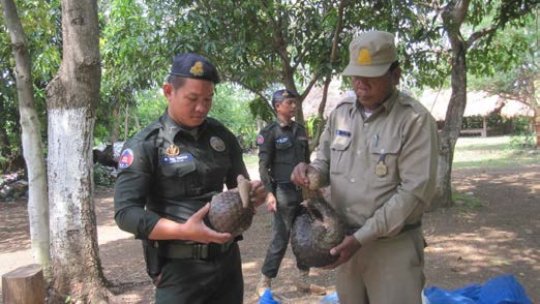 The Wildlife Rapid Rescue Team (WRRT) team manager has been conducting investigations in Poipet and Banteay Meanchy on the Cambodia Thailand border, where there is a lot of trade to and from Thailand. Operations on borders are often unsuccessful due to complicity and corruption of border guards and officials. However, at the beginning of August, the team conducted two successful operations here, confiscating 2 pangolins, snakes and 170 snaileating turtles. The offenders were placed in detention pending trial and the turtles and snakes were released. The pangolins were transported to our Wildlife Release Station in Koh Kong.
839 animals were release by the WRRT during the past three months. 681 of these, mostly birds and turtles, were immediately release d by the team following confiscation. 137 pythons, 7 cobras and 24 longtailed and pigtailed macaques came from PTWRC following a time of care. The team prefers to release cobras immediately, but it is not always easy to find an appropriate area to release these dangerous snakes and they usually end up in our own protected area, the Southern Cardamom Mountains in Koh Kong.
During the past 3 months, the WRRT rescued 826 live animals, confiscated 510 dead animals, conducted 194 operations, and arrested 24 wildlife traders.
WARNING: Javascript is currently disabled or is not available in your browser. GlobalGiving makes extensive use of Javascript and will not function properly with Javascript disabled.
Please enable Javascript
and refresh this page.