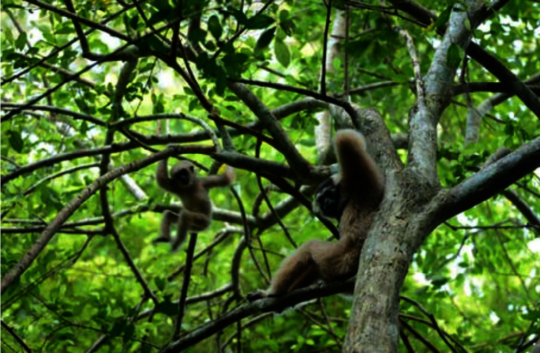 Our program with APSARA and FA, the relevant departments of the Cambodian Government, to restore wildlife back into the forests of Angkor, which surround the magnificent ancient temples, progresses well. Baray and Saranick, the first pair of pileated gibbons born at PTWRC and taken to Angkor on June 29, 2013 and released on December 12 and their baby, Pingpeeung or Spider, born on September 3, 2014 continue to do well. Spider is growing well and is becoming more independent, traveling confidently through the trees on her own, although she never strays far from her family. The second baby, Chungruth, (Cricket) born to the pair on July 6, 2017 is also well. Although we are continuing to feed our released gibbons to ensure they remain in safe areas during the early stages of this project, they are reverting well. Baray sometimes eats the flowers planted in the garden of the Angkor Zipline, but our relations with this company are good. Although Sarin, one of our excellent staff who care for and monitor our animals in Angkor, mentioned recently that Saranick was looking a little fat, we were happily surprised when she produced her third baby on March 30. We have named the new arrival Konteslong (Water beetle) to continue the insect theme of our wildborn gibbons. Mother and baby are doing well!
The second pair of gibbons, Bayon and Tevy, which we brought to Angkor in 2014 are also well. The small problems we were seeing during feed time, when Tevy was clearly concerned in the proximity of Bayon, have been resolved by hoisting a second food basket into the trees 20 meters away. At other times there does not appear to be a problem between the pair. Aping (Tarantula), born on June 30, 2016 is well and growing fast. Tevy gave birth to her second infant on August 2, 2018, who we call Kandop or Grasshopper, is also well.
The young gibbons we brought to acclimatize at Takao Gate, on November 28, 2018 have settled down well. Female Pompoi was nervous and at first displayed signs that she was frightened of people, is becoming more relaxed. Male, Borey, is less nervous and the pair get on well together.
Mr. Rith, our second keeper in Angkor and the son of Sarin, saw 4 or 5 of the silvered langurs we captured from an island off the coast in 2018 and relocated in Angkor, still close to Lake Santamea, the area where we originally released them. Our released muntjac are also still seen now and again.
The most interesting news from Angkor is with regard to our otters, which we released towards the end of last year. You will remember in my last Newsletter of 2019, I mentioned that their behavior had changed and they were traveling less, preferring to remain close to home, near their old release enclosure. They stopped moving around the forest, spending most of their time in the hole they dug outside the enclosure around 20 meters away, within the roots of a large tree. They also stopped entering the cage for food via the door, preferring to use the hole they dug under the fence. We subsequently closed the cage door for safety reasons. We continue to feed both live and dead fish twice each day, to provide nourishment and ensure we have a modicum of control. The female started to appear at the pool with the male less frequently and sometimes left early from feeding. On February 23 we saw two otter pups in the pool with the adults for the first time. They looked to be around 6 weeks old. They were seen again twice before the end of February. On the last occasion, the female bit the hand of Sarin when he was taking photos of the pups! He was obviously getting too close! The lakes nearby were mostly dry, as APSARA has closed the waterways for maintenance purposes, but channels have been opened again and during March the lakes close to our otters' residence had filled again. By the end of March the two pups accompanied their parents every time they went to feed.
There is a growing interest within APSARA, the governing authority in Angkor, concerning our work here and this seems to have increased, thanks to the patter of tiny feet of our new arrivals. Whether this transcends into a greater general interest within the government towards the conservation of wildlife in Cambodia, only time will tell, but to find out we must press on...