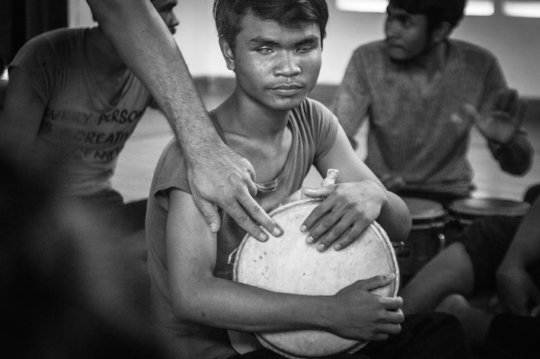 Thank you for supporting the students on Epic Arts Inclusive Arts Course.
We're now eight months into the Inclusive Arts Course (IAC) and the students that you helped fund have settled in and found their feet.
Although the course focuses on a range of art disciplines it's not just an arts course. It's a way for these young people to explore themselves, develop skills, confidence & new attitudes to their own ability.
Our entry-level course transforms lives. Previous students have gone on to work as performers for Epic Arts and find work in other NGOs.
Socheata an IAC graduate, recently donated to the course after graduating and securing a job with WaterAid Cambodiashe said, "I would not be where I am today without Epic Arts. I want to thank you and help you to help other young people with disabilities like me"
We have 13 new students on our course that we believe will be just as successful as Socheata and the many other graduates. In our last email update we introduced 3 new students. We'd like to introduce you to 3 more:
Sochon
Sochon is from Prey Veng province in the North-west of Cambodia. He spent most of his childhood and teenage years at Domnok Toek organization in Phnom Penh and he studied at public school with their help.
He has always loved the arts, but his disability stopped him from pursuing his passion. "Because I can't see, I used to feel very helpless"
Sochon heard about Epic Arts and jumped at the chance to learn more about the subjects he loves but never had the confidence to try. "Now I've joined Epic Arts I know that everyone around me wants me to be involved. I always have an assistant describing activities to me"
Kakada
Kakada has severe hearing impairment, he lost the majority of his hearing when he was 6 months old after falling ill and not receiving the proper medical care. Kakada is a determined and persistent young man.
Kakada's mother and father are both teachers and they refused to let their son give up because of his disability. They made sure he learnt how to read and write Khmer, a difficult task for those with hearing impairments, teaching him at home after school to make sure he didn't fall behind his peers.
Kakada completed his formal education to grade 12 without any knowledge of sign language. After completing high school Kakada joined the Deaf Development Program for two years where he learnt sign language and was introduced to the deaf community of Kampot.
Kakada loves to dance and had heard about Epic Arts through DDP and the deaf community. As soon as Kakada found out that there were places on the Inclusive Arts Course he signed up for interviews.
Sok
Sok was raised in Kampot Province; he began primary school later than other children.
Sok has a visual impairment and when he was 14 he decided to finish his schooling. "It was difficult for me to see or read what was on the blackboard. The teachers didn't try to include me"
Although he'd gotten to grade 6 he felt like he was wasting his time. With primary school education completed Sok thought that this was enough and started working on the family farm.
Sok heard about Epic Arts on the radio and wanted to join because he wanted to learn more skills and gain more knowledge. "From the interview I heard on the radio, I knew that Epic Arts would include me and I wanted to start learning as soon as I could"
Your Gift Means a Lot
These are just three of our students, over the next few months - we'll be sending you updates on their progress and introducing you to the other students that you've helped with your kind donation.
Thank you again for our helping us to get these students onto the Inclusive Arts Course, we're so grateful for your donation. We receive no statutory funding for this course so we rely hugely on donations from generous donors like you to fund our course.
If you can, please consider setting up a monthly donation to help us continue to deliver this life-changing course.
Thank you