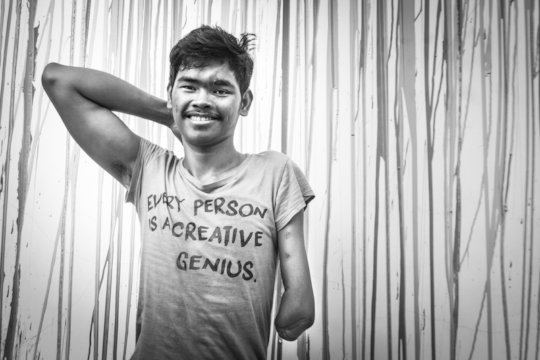 Thank you for supporting the students on Epic Arts Inclusive Arts Course. Have you been thinking about donating again? We can't continue our work without your support!
We're now one year into the Inclusive Arts Course (IAC) and the students that you helped fund have settled in and found their feet. Our students are currently on term break celebrating the Pchum Benh holidays and will be back to start term 5 next week.
Although the course focuses on a range of art disciplines it's not just an arts course. It's a way for these young people to explore themselves, develop skills, confidence & new attitudes to their own ability. The next term is the penultimate term and the students will start to focus on their next steps as well as inclusive skills and leadership.
In our last email update we introduced 3 new students. We'd like to introduce you to 3 more:
Nathann
Joker of the group Nathann, is the life and soul of the classes, showing a particular talent for Music. Nathann comes from the most northern province of Cambodia on the border with Thailand. Our course is inclusive and accepts all students who are interested in the arts an show commitment at interview stage, Nathann doesn't have a disability however because he grew up close to the border there were many economic opportunities for him to prioritize over education. Nathann dropped out of school and although he is only 21 years old he has already had a varied employment background, from working in casinos to building houses in Thailand.
Cholsa
Cholsa is our resident rapstar, he's a talented singer and rapper has grown in confidence over the last year. Hailing from the north-west of Cambodia Cholsa contacted us via Facebook after he'd seen one of our music videos. Cholsa was in a motorbike accident which resulted in having his forearm amputated. Cholsa finished grade 12 and joined an NGO focused on vocational & agricultural training before Cholsa set his sights on becoming an artist. Cholsa dreams of one day becoming a famous singer in Cambodia and we're glad we've been here to help him on his way!
Vichet
Youngest member of the course, vichet because he loves drawing. Vichet dropped out of school at a young age and trained to be a barber with his uncle. Vichet had dreams of studying and creating art and jumped at the chance to move to Kampot to join the Inclusive Arts Course.
Your Gift Means a Lot
Over the last year we've introduced all 12 of our Inclusive Arts students, that you've helped with your kind donation, if you missed any you can go to our global giving page to read the old profiles!
Over the next six months, we'll be sending you updates on what they get up to.
Thank you again for our helping us to get these students onto the Inclusive Arts Course, we're so grateful for your donation.
We receive no statutory funding for this course so we rely on donations from generous donors like you to fund our life-changing course and empower young people with disabilities.
Please consider setting up a monthly donation to help us continue our transformational work.
Thank you,
Epic Arts Inclusive Education Team