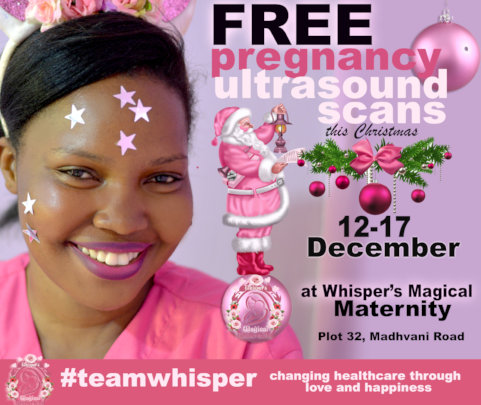 Dear Whisper family,
As much as everyone is getting ready for Christmas, Whisper is tires-sly working every day to ensure that all of our client's Christmas is extra special this year.
Whisper's Magical Maternity organised a free ultrasound scanning for all pregnant mothers, together with gynecological consultations.
This offer had run for 5 days and the success was tremendous.
Whisper got to see 184 mothers in total.
12 - December: 37 mothers,
13 - December: 30 mothers,
14 - December: 21 mothers,
15 - December: 32 mothers,
16 - December: 22 mothers,
17 - December: 42 mothers
Out of 184 mothers:
40% of mothers have never had an ultrasound before.
3 mothers were diagnosed with empty sack.
2 mothers miscarried
6 mothers were diagnosed with Pelvic Inflammatory Disease, one of them had a chronic inflammation of the ovary
1 mother was found to have enlarged liver
3 mothers were diagnosed with uterine fibroids in pregnancy
3 mothers were found to have a nuchal cord (

or a cord around the neck — is one of many things mothers-to-be fear about childbirth. The thought of your baby being 'strangled' by the umbilical cord can cause so much worry)

3 mothers were found to have cervical incompetence (short cervix) it means the baby cannot be hold well
3 mothers were diagnosed with poloyhramnios. Poloyhramnios is a medical condition describing an excess of amniotic fluid in the amniotic sack.
100% of mothers got images printed, and every one of them wanted to know the sex of her baby. Every mother with complications was seen by our senior consultant gynecologist Dr John Mundaka.
2 of the mothers who were diagnosed with uterine fibroids have never had a scan before.
One mother with complications partly paid for our antenatal package ($40). This package includes up to 4 free scans, medication and 4 consultations with gynecologists.
Every mother who came to the maternity, received a small pack of ground nuts to keep them occupied and not hungry :) Those g-nuts packs are made for every client during our Christmas season at the hospital.
Expenditure of this 5 day christmas free service:
48 pcs of toilet paper $10
2,5 l of ultrasound gell $14
1 roll of sono paper (ultrasound printing paper). $22
and 1 reem of paper $6
This means that the total expenditure of providing a high quality free ultrasound and free prints to 184 mothers was $52.
This means each mother was seen at $3,50 dollars.
*cost of this project does not include salary payments for gynecologists ,radiographer, and midwives and the daily awareness drives around Jinja districs.
Whisper is very grateful that it can have this amazing impact on so many expecting mothers, and having to help those with serious complications.
Overall, we also got only positive feedback from the visitors. People really appreciated the cleanness of the maternity department, some women have never got to see an operating theatre before.
We are very inspired by this program, and we are thinking of introducing free scans on more regular basis.
Whisper also tested the efficiency of our maternity team and of the ultrasound equipment. The ultrasound worked really well and didn't disappoint us :) All mothers were told the sex of the baby, and all mothers also could see the sex of their baby on our ultrasound TV.
We have already created a Christmas vouchers that are valid until the end of January, and were already taken to the nearby and too far-by clinics, to be given to any woman who needs either gynecological or pregnancy scan.
All this would not have been possible without donors who keep our work going!
On behalf of the entire #teamwhisper, allow me to wish you a very Merry Christmas and a Happy New Year!
Veronika