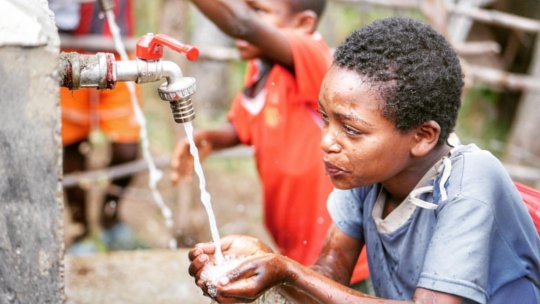 In late December, with the help of the local community, HOPE successfully completed the construction of the new water system in Gezesso. This means that now an additional 2,300 people are drinking, cooking and washing with clean water and are significantly improving the quality of their lives. Much joy has been displayed and expressed amongst a community that until last month, spent most of their days just trying to survive to the next. Now there is hope for the future and increased energy to plan and invest in their future.
In Gezesso four springs were capped and a pipe line dug and laid 8 km long, allowing water to flow to three newly built water reservoir tanks and then to 13 new water points and 11 wash basins. In addition to helping advise on the construction of the water infrastructure, HOPE continues to work with families to educate them on building and using household latrines and practicing basic hygiene and sanitation, such as hand-washing, to help them fully benefit from their new access to a nearby source of clean water. For example, thus far, families have dug and installed 120 pit latrines with technical support from HOPE field staff. This is an excellent indication that families have embraced the lessons they are learning in their hygiene and health sessions. An additional 144 pit latrines are planned to be built in 2017 as health and sanitation education continues to reach all community members.
Twenty members of the community have been also trained as Water Caretakers to maintain the system's infrastructure and 40 people have been elected by the community as members of their Water Committee, working together to properly manage the water usage in the community (ensuring that taps stay clean, fences are maintained, water fees are collected and paid, etc.).
This new water system in Gezesso was completed just weeks after the water project in the village of Kalebo Laka (see final report). Both communities are situated near one another and are presently undergoing much positive transformation change. Health is improving, children are attending school regularly and women are receiving an additional investment of basic business education (see project report). Similar to Kalebo Laka, a school in Gezesso with 291 pupils now has a water point as well as a local health centre, which services people from the surrounding area and is staffed by local people.
HOPE has historically seen the beneficiary community take pride in and ownership of their water system after its public handover, due to their personal investment in construction, managing the system (through cleaning and repair) and paying regular, affordable maintenance fees. Therefore, a 50-year life span for each system is realistic because HOPE uses high quality and durable materials and local people have been trained to appropriately maintain the system for themselves. Whilst HOPE staff stay in touch and can provide technical and other support as needed, the local government also has an on-going commitment to ensure that clean water continues to flow in villages with recent access to water, like Gezesso.
Thank you again for your support of this project. If you would like to keep up-to-date with our ongoing investment in rural Ethiopia by receiving HOPE's e-newsletters, please email us at admin@hope-international.org.uk.
We are now turning our attention to our next project in Mela Gagula. Join us by bringing joy to that community of 2,400 as well.