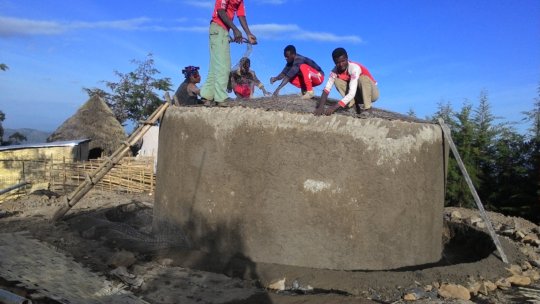 Can you imagine the excitement that is building in Mela Gagula, only days before the taps will be turned on and 2,400 people will be able to access clean, safe water for the first time? Never before have their days not be dominated by sourcing water that often brings illness and eye infections. Never before have domestic duties been achieved in sufficient time for children to also attend a full day of school. Never before have women not been carrying the burden of cooking and cleaning and also looking after ill family members whilst also ensuring that water is collected, although 3-4 hours away. Never before have they not worried as they sent their daughters off to source water, fearing for their safety and future.
Now, however, their dream is coming true and access to clean water will thoroughly change their lives and the lives of future generations.
For this project, four springs have now been capped to ensure there is enough water for each of the 10 water points, evenly distributed around the village, one which is specifically for the local school. Two water tankers are also complete. The final pipe line to carry clean water 5.9 km from the spring to the village has been laid. In addition, thus far 49 pit latrines have been dug and the community are starting to practice improved hygiene practices – e.g. washing hands frequently with soap - as a result of HOPE's health and sanitation education. These attitudinal changes that have already been witnessed by HOPE staff show there is great commitment to fully benefit from the new water system and passion to maximise all of clean water's benefits, which is key for sustainability.
In addition, 12 groups of 20 women each will soon be starting new, small businesses as a result of their training from HOPE staff on entrepreneurial skills. These groups have been meeting and for the first time ever, these women are starting to save money, in preparation for lending to one another to assist with kick-starting personal and group income generation. Although literacy is limited, because so few of these women had the opportunity to attend school, there is a growing confidence that they will be able to financially contribute to their families and have a louder and stronger voice within their marriages and wider-community.
The taps are due to be turned on in mid-August. Immediately after, the quality of life for these women and their children, in particular, will change as they will no longer need to walk 3-4 hours for water each day. The health of the community will improve rapidly as they drink, cook, and wash with water that is safe and not contaminated. The health of their livestock will benefit as well. More food will be grown and consumed. The quality of their lives will have improved beyond measure.
Thank you for making this possible!
Do follow our fundraising progress on our next water and sanitation project in Alugube and Durbe and support us in changing more lives!