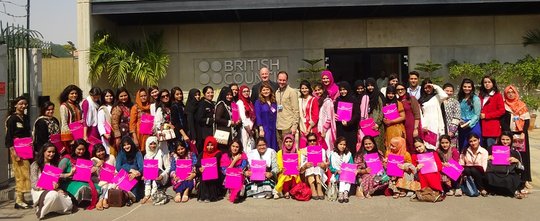 Educate a Girl has partnered with British Council and begun training the top girls with (BBC awarded) UK based journalist and author Alex Preston. Alex came to Karachi and met with 45 of the top students (311 have graduated this course so far) and taught them for two hours in the use of subjective tense, importance of keeping ownership of your voice, simplicity of words, asking inviting questions and so forth. The girls were given certificates by British Council. The course was videotaped to share with other students.
This invaluable additional training is organized by Dawood Global Foundation and British Council without any additional costs to Educate a Girl donors.
The 5 best students from this course will be selected for further training in Europe.
To date, almost 600 deserving girls have been funded through Educate a Girl to become journalists.
Links: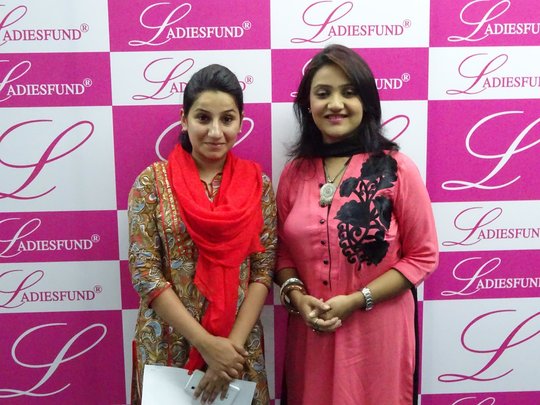 "I want to educate a girl out of my paycheque," stated Jaweria Ali, Educate a Girl Winner #25. Jaweria today is a News Anchor on HTV Pakistan and has become a local celebrity when just a few months ago she had great potential, but no job and limited options. "Winning the Educate a Girl scholarship has changed my life for the better and I want to do the same for another girl."
And so she did. Jaweria funded a scholarship for Educate a Girl Winner #316 Marwah Malik, changing her life for the better. Today, Marwah is studying to be a journalist at the Institute of Journalism, but she is determined to get a great job and one day educate another girl.
See them both in the below video:
To date, almost 450 scholarships have been funded out of our mission to educate 1000 deserving girls in Karachi. Out of the 254 girls who have graduated, 2 girls so far have donated scholarships from their paycheques and many others have gotten great jobs and become vital contributors to society.
Although we have a transparent one donor one recipient platform for just $100, please feel free to participate in any amount and your contributions go toward making a difference. To date, all global giving donations have been matched to deserving girls and we need your help in spreading the word so that more people can join us and we can become a permanent member of this great site.
Together, we can change lives.
Links:
WARNING: Javascript is currently disabled or is not available in your browser. GlobalGiving makes extensive use of Javascript and will not function properly with Javascript disabled.
Please enable Javascript
and refresh this page.