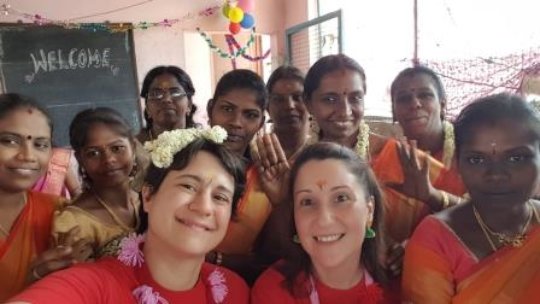 Sara, our volunteer referent, has just returned from the monitoring trip to India and here is the exciting story of what she lived!

"This is the third year that I go to India to monitor the projects that Aleimar supports, but each time the trip can be a different and equally wonderful experience in this country that is impossible not to fall in love! The Indian people have had to overcome another difficult year from the political point of view and we hope that with the new elections that will be held in April 2019 the situation will become more peaceful again, especially for the humanitarian organizations that collaborate with us in this mission.
After visiting the children supported in Mumbai, in the middle of the week I moved to the south, in Tamilnadu, in the Nagercoil area to meet our local referent, John Upalt, and also to monitor the projects of the Mother Theresa Social Service Organization. Like every year I met the women of computer science and tailoring courses: with great enthusiasm and gratitude the girls organized a colorful welcome party during which I had the opportunity to sign and deliver 30 diplomas to the women who concluded with successful training! As evidence of how these courses are fundamental for these women, we discovered that the new computer science teacher is one of the girls who graduated last year, while another opened her own tailoring shop!
It's incredible and exciting to see and feel the joy of many girls who live this project as an opportunity, not only to learn useful skills to enter the world of work, but also to give themselves a chance for personal and social redemption ".

The words and the enthusiasm of Sara give us the charge to help more and more this people and to do it we know we can count on you: last week, thanks to the Little by Little campaign, we have collected almost $ 400! For many it could be a small amount, but for these girls it can really make a difference!