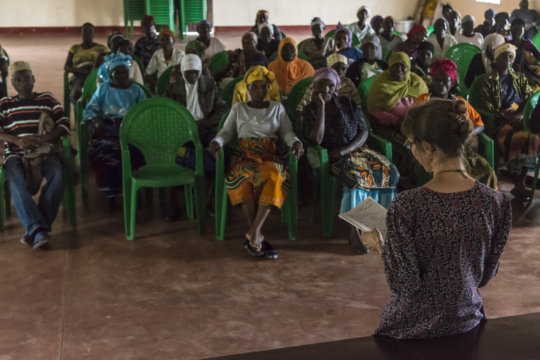 As our director Daniele Saibene returns from Malawi, pleasant news return with him!
Daniele and his delegation have been visiting the Mangochi region for one week, to check out how things were progressing and to consult the local physiotherapist Gift and the Italian volunteer nurse Marina.
As they were there, they could feel a change. Gift isn't, in fact, the only local volunteer; many others have joined him in his mission! Indeed, 30 volunteers are currently participating to the training course to become physiotherapist help, so that the families who can't leave their homes and drive or walk all the way to the Tiyende Pamodzi operative center, can be assisted in another way. Gift, whose work is passionate and whose actions are guided by a sincere willing to help, isn't able to work with more than 20 patients a day, so that the assistance of the local volunteers has become an essential resource.
But those 30 volunteers aren't the only ones who are offering help! As a matter of fact, the mothers of those children who have been lucky enough to get already a treatment, are sharing their knowledge, offering their help and affection. Mothers who first were ashamed to have disabled children, are now the force to continue and to grow.
Furthermore, a new project is starting to see light. Marina and Gift are starting to put everything in place so that the GYM can be fully equipped for the treatments, and new materials can be lend to the families who work with their children from home.
Together, we have already reached so much, but much more can still be achieved if we all believe in it and work for it! Let's do it, for the children, for the mothers, for Namwera, for Magochi, for Malawi!