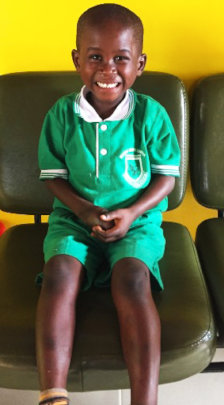 Simona, our contact person from Ghana, is giving us fresh updates about the project Coffee Beans.
The shelter Casa Italia keeps hosting orphans, abused or ill-treated kids, providing them with medical care, food and school support, as well as the affection that all children have the right to receive. We are happy to tell you that all these "beans" are doing great .
The shelter successfully obtained the qualification of SPECIAL CHILDREN'S RESIDENTIAL HOME. This is a great honor, but it also implies important responsibilities. We all look forward to live up to what this qualification means.
Regarding our "beans", our kids, we would love to share with you the story of Kwesi.
Kwesi reached our shelter when he was about two years old. His father was a violent and abusive man - with both his son and wife. One morning, when Kwesi was home alone with his father, he dared to take a bit of food without asking permission to the father, who took his tiny hand and put it into the boiling pot of food. The man held Kwesi's hand in the boiling food for so long that his small fingers melted down, until the neighbours , attracted by Kwesi's yelling, intervened and took him to the hospital. The medical staff tried to do everything possible to save his hand, and Kwesi had to stay long in the hospital, to heal from the temperature and the infections got from the mutilation.
After this horrific incident, the social workers issued a care order and assigned Kwesi to our shelter Coffee beans. Since that day, Kwesi never received a visit from his mother, let alone the father. However, as incredible as it may sound, he never stopped smiling. Kwesi is such a strong and brave kid! He's always happy and playful with everyone. He's such a dynamo of energy and is growing up happy and sound. Our main goal with Kwesi is to keep ensuring him love and peacefulness , following him in his school path and hosting him in the centre, until a caring family will be able to take care of the kid.
During his years here at the shelter, we accompanied Kwesi for his several fingers' surgeries. And guess what? We are finally happy and touched to inform you that they have all been fixed! This is such an amazing achievement for Kwesi, for the whole shelter and for all of you supporting this project!
But the good news are not over yet! Despite the surgery and his absence from school, Kwesi managed to be amongst the best students, not only within his class, but in the whole school!
This is exactly what Coffee Beans is about: turning a kid's personal story into a wonder of joy and hope.
This achievement couldn't have been possible without you and your generous help. So thank you. Thank you from the bottom of our heart for your generous commitment.
Together we can achieve many other great goals.
Supporting us, Coffee Beans and Kwesi is very simple: just connect to https://www.globalgiving.org/projects/coffee-beans/ access the DONATE NOW area and make a donation
Only one donation is allowed for every single person with a maximum amount of 50 dollars, so don't forget to spread the word and involve as many people as possible!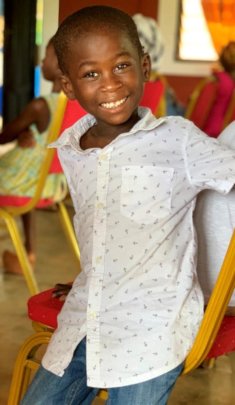 Links: