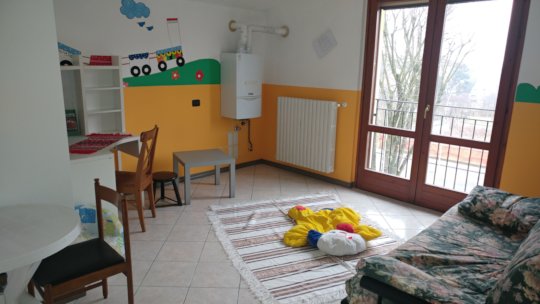 We have great news from our Social Housing project! Two new families have been welcomed in a renovated apartment, which has now three bedrooms, a living room, a kitchen, a bathroom, a laundry room and a space entirely dedicated to play. The apartment is dedicated to lone-parent households living in a difficult economic and social situation, in particular mothers with their little children. The activity started in December, when the first family was welcomed. Today two moms with their two little daughters live in the apartment!
The welcomed families are being monitored by our specialized education staff, together with two volunteers, who are helping mothers to manage their everyday activities.
Through this new activity of co-homing, together with the welcomed families, we are willing to promote the value of cohabitation, which means for us a cooperative lifestyle focused on mutual support. In our opinion, this practice improves the quality of life, but above all it shows that smiling is not an extraordinary fact but an everyday experience!
We would like to take this occasion to thank you all once again, for the huge and fundamental support you give us every day! For this, we couldn't be more grateful!