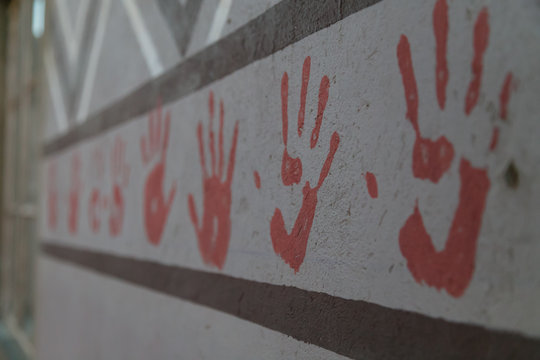 The month of August brought with it an absence of handprints on our walls as our students are out on their last semester break before the end of the year.It gets quiet and lonely for the widows without the noise of the children and the bustle of the school day. We look forward to them coming back in September, messing up our courtyard and finishing off the school year with a lot of enthusiasm!
Imagine the delight of our sixth graders when they see the progress of the new seventh grade classroom as it comes to completion. They get to stay at Chikumbuso one more year! For them this is a dream come true, it means they are able to do their first round of government exams with us..
Being able to stay at Chikumbuso is a blessing for the kids but for the administration it means that we need to raise more money for supplies, books, furniture and a teacher's salary. Please consider our seventh graders as they go on and our 150 highschoolers who leave Chikumbuso for another school but still count on us for their supplies.
These students are courageous and work hard. Please help them to succeed.
All the growth and joy we find at Chikumbuso would not be there with out your help. Truly, from the bottom of our hearts, we thank you for your generosity.
Many blessings for your September and all the changes it may bring,
The dream was laid out by the widows of Chikumbuso about three years ago when they were asked what their hopes and dreams were for the project in the coming years. The widows had several dreams but one in particular was to have a new seventh grade classroom. Seventh grade in Zambia marks the end of elementary school and is a year where all students must take a written test to see if they can move on to the upper levels of Middle school and then High school.
This year through the generous gift of two of our volunteers the seventh grade classroom is being built. We are so thrilled that the hearts of the widows are being heard and that dreams do come true.
What we need is help from you in classroom sponsorship. With this gift comes the need for more funds to furnish the room, buy supplies and pay for a new teacher's salary. Please consider helping us finish up the room and get it ready for our sixth graders when they "move up" and start a new school year in January 2016.
Summer is coming! Much like the children here in the United States, kids in Zambia are getting excited for a little time off, even if there are quite a few differences between the two. In the US, kids are getting ready for camp, pools, beach time, and lazy days. In Zambia, many of our students are using their time off to help their moms with the other children, to earn a bit of money to help pay for school, and begging us to let them back in the doors!
That's right, Chikumbuso is a safe place for our students, full of laughter, friends, and people who love them. They would much rather be at Chikumbuso then out on the streets or in their tiny homes. That's why we continue to open our doors and let them use our amazing library, study center, and playground.
When you sponsor a classroom at Chikumbuso, you actually are sponsoring a safe, fun, learning environment that lasts far beyond the ten months of school. Please consider supporting our community center by sponsoring a classroom and getting kids to a place they love.
WARNING: Javascript is currently disabled or is not available in your browser. GlobalGiving makes extensive use of Javascript and will not function properly with Javascript disabled.
Please enable Javascript
and refresh this page.