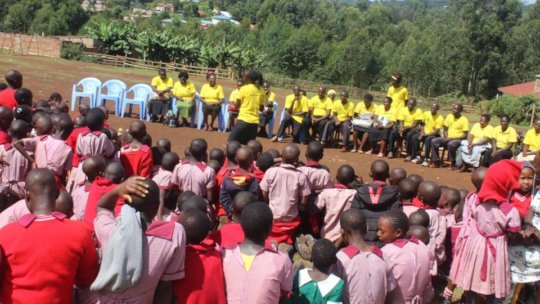 For a long time, we have hoped to visit two schools on the same day to continue with our initiatives of ending FGM. On 7/3/2019, through your continued support in Global Giving, United Methodist Women, and Dr. Lisa Fontes from the University of Massachusetts, we accomplished to visit Pisgan and Kegogi Secondary school. The goal of the outreach was to continue with our initiatives to end FGM in Kenya. We interacted with students from these schools and shared knowledge on how they can overcome the threats of FGM.
It becomes a challenge to get access to students during the holiday period. Unfortunately, it is during the holiday period they are at the highest risk to undergo FGM. Thus, getting them before breaking out for a holiday has proven to be helpful in reducing the risk of them being forced to undergo FGM. We hope that through these efforts, we reduce FGM prevalence among the Abagusii which is at 84%.
Pisgan Academy…
During the morning session, we went to Pisgan Academy. It is a primary school with a population of three hundred children. The excitement on the pupils could tell it all. They were thrilled to see us. After introduction, the CHHRPs performed a skit on the need to be protective of their bodies. We believe that such a message is powerful in raising the consciousness of girls regarding the right to refuse to undergo FGM.
'FGM is harmful to you. We know that you have heard, from where you come from, that it has benefits. We assure you, it is not true. In contrast, FGM leads to severe pain, shock, genital tissue swelling, impaired wound healing, keloids, depression, and anxiety,' said Gladys Nyasuguta, HFAW CHHRPs.
After a general session with the whole school, the upper primary students were asked to go to another room where they could receive more detailed education on FGM. The lower primary was left behind to engage in activities like reciting poems and singing.
The upper primary students were given an opportunity to ask questions on FGM. Indeed, we discovered that there is a knowledge gap in education on the effects of FGM. While the students knew that FGM exists in the community, they do not understand its consequences; hence they do not know how to approach the people with the plans to cut them. The session primarily involved assuring the students that they have rights.
'You have a right to your body. It is true when you are young and true when you are old. If you want to do something, it is your body. But if you do not want to do something, it is also your right,' said Dr. Lisa Fontes. After Dr. Fontes' address, we answered the student's questions and proceeded to secondary school.
Kegogi Secondary School…
We were welcomed with melodious songs and dances. Our goal was to present FGM for what it is; a heinous act. Girls and boys should know that FGM is not something to celebrate. It lacks value. It lacks a basis. Above all, it is a violation of human rights.
'Why are you trying to stop our culture?' One student asked.
The question was a worrying confirmation of the reason FGM has existed for so long. It thrives on conviction. From a young age, that it is a cultural obligation. The student was told that FGM is harmful to girls and women.
'How can one deal with trauma after undergoing FGM?' Another student asked.
Indeed, FGM leads to severe trauma. It is sad to imagine that the person who asked the question could be experiencing trauma or knew a person going through the same. One of the CHHRPs addressed the question by emphasizing on the need of the person suffering trauma to talk to somebody he/she trusts. Alternatively, the student could attend guidance and counseling services provided in the school. The afternoon session showed the need for conducting regular follow-ups sessions to assess the progress of the students in relation to FGM.
Dear friend and partner, the school outreach was possible because of the generous donations we receive from you and a grant from the United Methodist Women. The experience shows how you and the United Methodist Women have directly and positively impacted the community. We are confident that the work we are doing in schools is slowly but surely uprooting FGM from society. We continue to appeal to you for advice, technical, and financial support. Kindly, share our work with your friends and family for them to see the impact you are making in society, and if possible, they can do the same.