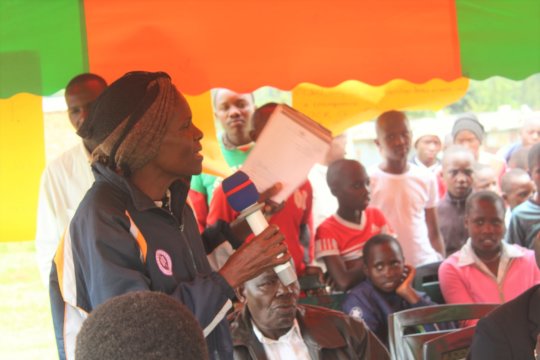 Dear Friends
Hope Foundation for African is focussed on bringing positive change to the community. Our interventions are channeled to reach each member of the community-especially the youths. On 23rd, August, HFAW held a youth empowerment event in collaboration with Life Beyond Matutu, a Community Based Organization based in Nyaronde, Nyamira. The event was so successful. It took the edutainment approach. We had fun activities like modelling, eating competition, football competition, and a chess game. On the education end, we held a discussion on issues like more youths going to school, ending FGM, stopping drug abuse, ending teenage pregnancies, and having mentors.
Last month, Nyamira county was ranked among the top five counties with the highest cases of teenage pregnancies. The report elicited a lot of reactions from the locals and the entire nation. Many called for swift action to curb the challenge. As such, this was the best platform for the community to converge and chant a way forward on ending teenage pregnancies in the region.
"I believe we can improve our children's morals by encouraging our children to go to school and work hard. Education opens doors of unending opportunities. It empowers one with the knowledge and skills that she can use to improve the living condition. Education also instills moral values that enable one to critically analyze situations before taking actions like engaging in premature sexual relations", said Beatrice, a representative from the Ministry of Education Kenya.
Why Nyamira continues to grapple with rampant cases of teenage pregnancy
Part of the reason why Nyamira grapples with the problem of teenage pregnancies is high rates of poverty, which contributes to school drop-outs and persistence of harmful practices like FGM. Additionally, right from childhood, girls are socialized into feeling inferior to boys and staying submissive. They are denied access to opportunities which can make open doors for a better future. The challenges translate to lack of confidence, low self-esteem, and stress, which put them at risk of teenage pregnancies.
"If you forget everything that I have said today, please do not forget to have a mentor. This is someone you look up to for guidance. It may be your mother, father, teacher, or even me. Mentors help set your life in the right direction through guiding you and motivating you to work hard and stay disciplined", said Rachel, a representative from the Children's office, Nyamira, Kenya.
Young girls in our community are in dire need of mentors. They need people to look up to. They need to know that success is possible for everyone who works towards it. They need to be taught life skills and encouraged to keep on soaring despite the challenges they face on a daily basis. They need mentors to help them break from the cycle of poverty that is characterized by teenage pregnancies, early marriage, domestic violence, and FGM.
"The Bible says that there is time for everything. Young girls and boys right now is the time to learn and prepare your future. Do not use this time to be a parent. Focus on education so that you can secure a future full of possibilities", said Beatrice, the representative from the ministry of education, Kenya.
Youths need to to have confidence in themselves
Another key issue discussed was confidence and self-esteem among young people. Teenagers and young adults need to be confident and believe in themselves. Such an attitude will improve their abilities to make informed decision to abstain from sex until marriage. It will propel them towards chasing their dreams and bringing positive change in the community. Most importantly, it will protect girls from giving into early romantic advances.
Dear friend and partner, this program was possible because of you. Your contribution is bringing our community together in forums and sparking conversations on the problem of teenage pregnancy that is often discussed in a low tone. Now more than ever, we are making it known, in words and actions, from one corner of the community to another, that the persistence of teenage pregnancy is unacceptable. We are holding leaders accountable for failing to formulate policies to protect girls. We are holding law enforcers responsible for failing to apply the law strictly and prosecuting men and boys found guilty of impregnating teenage girls. Do not forget to share our work on life skills education to end with your friends and family so that they can see the smile you are putting on the faces of people from our community.