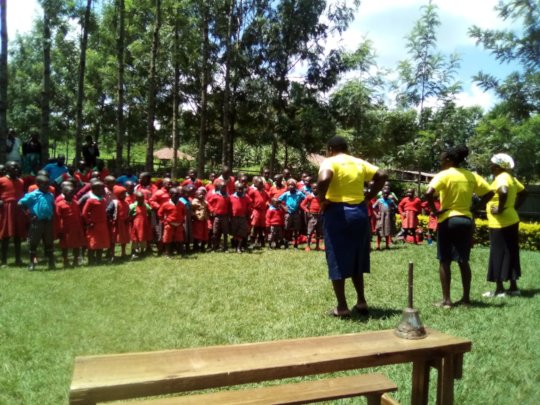 Dear Friend and Partner
The life skills education targets positively influence behavior among the youths. Most of the social problems we see in our community are because of a lack of sufficient and appropriate life-skills education. We are in the process of changing this narrative. We visited Don Bosco primary school in Nyamira County, Kenya, to continue with the mission of ensuring that the younger population understands their rights and use the knowledge to identify and report instances of physical, emotional, and sexual abuse. We interacted with 150 students between 5 and 13 years.
Joyce, Gladys, and Lydia, HFAW community health promoters, facilitated the session. As people who work at the grass-root level, we understand the challenges that children whose parents are more concerned with providing and working tirelessly out of poverty experience. The teachers may not adequately cover life skills education, given the pressure on covering the academic curriculum. Therefore, your support in this initiative has ensured that the younger generation is all-round equipped to face life. The issues discussed include children's rights, sexual and reproductive health, and the health effects of FGM.
'Our bodies are our own, and no one has the right to touch them inappropriately. If you feel that someone is touching you inappropriately, ask them to stop. Also, report to someone you can trust and confide in regarding the issue. No one should touch your private parts', said Glady's HFAW CHHRP.
The message was passed alongside a song showing the children their bodies and asking them to ensure that no one touches them inappropriately. The video can be accessed here.
Another issue discussed was Female Genital Mutilation. The practice is rampant in Nyamira despite the government of Kenya criminalizing it. Because of the seriousness of the consequences when one is found aiding or supporting FGM, adamant community members have resorted to practicing FGM on children as young as five years in secrecy.
'FGM is bad, and no one should try to persuade you to go through it. You should be protected from it, and when you feel that you are at risk, know that you can report to your teacher.' Said Lydia, HFAW CHHRP.
As we ended the session, we could see the joy and excitement in the children's faces. It was a clear indication that they enjoyed learning and that they are in better positions to resist harm and abuse.
'Today, I have learned that my body is mine, and no one should touch my private parts,' said one of the students.
Dear friend and partner, thank you for ensuring the children in our community access life skills education. We know you, and I can do more for longer using more resources if we have enough funds. We are lucky to have you, and we ask you to continue supporting us in thoughts, prayers, and giving. Share Life Skills Education with your friends and family so that they can know the great impact you are making in our community.