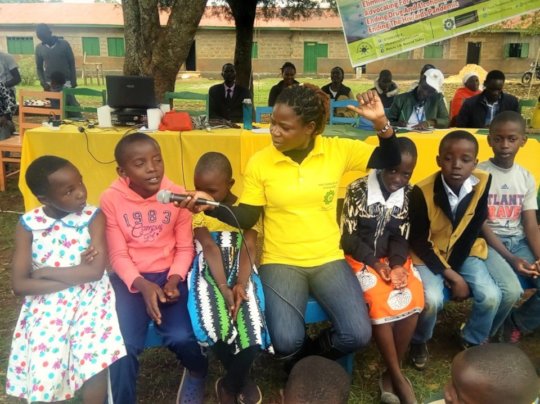 Dear Friend and partner
We are happy and humbled that you continue to support the project to End Female Genital Mutilation in our community. Courtesy of your support, we visited Sotik Highlands Primary School, Nyamira, on 29th August 2019. We are happy to report to you the impact you made in our community by giving to this project.
The theme of the event was- Empowering teenagers and young people to take up leadership and initiative in ending FGM, Drug Abuse, prevent spread of HIV/AIDS among young generation and economic empowerment of young adults through talents and advocacy for a better and bright Nyamira. The event reached 106 school-going children, 144 youths, and 27 adults. The event was carried through having open discussions on the health effects of FGM, possible ways that youths can use to put an end to the misogynist practise, and request to parents, political leaders, and the general community to join advocacy for the end of FGM.
Among the invited and present guest who shared with the participants were, HFAW members. LBTI members, Highlands Primary Schools Head-teacher and teachers, area Sub-Chief, the representative form MCA's office, the representative from Gender office-Madam Beatrice, a representative from Children Services office, from Ministry of Youth affairs- Erick and field officer for ADRA, many more.
' I know that it is a painful thing done to young girls. I do not like it when other people are hurt', Collins, (Not his real name), answered when asked about what he knows about FGM. The sesssion was fruitful in gauging and spreading knowledge on the effects of FGM.
'Before this meeting, I did not know much about FGM except that it is done on girls and that any girl who has not gone through it is rejected by our community. Now I know that it is harmful and lacks benefits. I plan to spread the message to my friends who lack this information. Hopefully, they can help the organization in ending FGM in Kisii and Nyamira', David, a youth from the Sotik high-lands area.
"We are grateful to HFAW from bringing this event to Sotik Highlands primary school. As teachers, we need help to keep children safe from harmful practises like FGM is prevalent in this region. FGM affects girls and interferes with their concentration and performance in academics. We urge our parents to stop holding on to the practice', Rose, a teacher at Sotik Highlands primary school.
The day was carried on with activities- football (girls and boys), Pathfinders' matching, chess/draft and athletics, reading competition, poetry; Children's assembly called, Say-T; Music from the Girl living with disability(brother and sister both blind), Traditional dances, open discussions and speeches from key speakers and finally awarding of the winners. This training was possible because of you, our partner and friend. We are creating awareness, impacting children, young adults, and the general community with knowledge, and promoting the protection of children's rights because of your kind donations. We humbly request you to help us complete this journey. Continue sharing our work with your friends and family.
Thank You