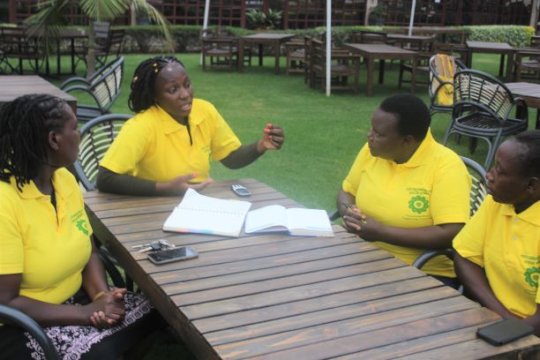 Dear Friend and Partner
Happy New Year!!!
As we begin the year, there is so much hope for the various projects HFAW has lined up to be implemented this year. We are excited and cannot wait for you to see the positive change you are making in our community, courtesy of your support.

The Community Health and Human Rights promoters have been the backbone of HFAW's campaigns to promote the end of Female Genital Mutilation, end Gender-Based Violence, protect children, especially the vulnerable and poor, and promote civic and life skills education.

In 2020, through the engagement of Community Health and Human Rights Promoters, we reached at least 100 men living with FGM survivors who learned how to be part of the campaign to end FGM thereby assuring the current and future generations of girls and women safety from FGM. Through this, we got male allies who have been instrumental in not only presenting the male perspective of FGM but also holding interpersonal forums in a bid to bring to strongly advocate for the end of FGM.

Also, we reached 100 youths through collaborations with other youth-led organizations in Nyamira and Kisii. To achieve sustainable development, we need to invest in the knowledge and skills of the youths at the grass-root level. HFAW believes that the end of FGM and other forms of GBV, protection of children's rights, and having an empowered community largely depends on how well the youths have been prepared. As a result, more youths have expressed interest in being trained and helping in implementing HFAW youth advocacy.
Furthermore, with the commitment of CHHRP trained courtesy of your support, we reached other members of the society whose influence can end FGM, GBV, promote children's rights, and empower the community like law enforcers, children, and teachers. As a result, we have more teachers engaged in following and reporting to HFAW on the violation of rights at home or school. This was not possible before.

Looking into the present and future, we are focused on strengthening our monitoring and evaluation approaches to follow-track of the impact of our activities of training CHHRP in real-time. Also, we plan to adopt alternative and innovative ways of reaching out to more community members to become CHHRP.
As I have stated in the introduction, we have so much in store and we are humbled that you are part of it all.