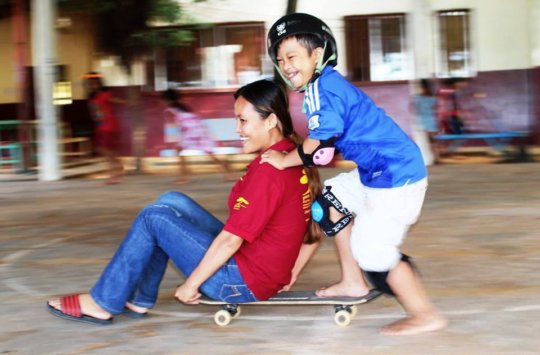 Hello from Cambodia. I wanted to thank you again for your generosity and donations.
With your help we are able to continue to provide education and training opportunities for thousands of disadvantaged children and youth in the local area. There are classes for children to catch up on their studies if they have never been to school, programs that support children to attend local public schools, and vocational training activities for older youth.
Because of you we have also been able to help children like six year old Champa* who cannot attend regular classes. Champa has Cerebral Palsy and lives with her mother and brother in a small house in a poor neighborhood in the city. Our Special Needs Team visits them weekly and works with the little girl and her mother and the time they spend together is paying off. Within the last year Champa has learned to use her hands more effectively and can now feed herself, and although still wobbly, she has started to walk.
In addition to visiting families in the community our Special Needs team works with a small group of children who attend a daily program at our Education Center. The program is for children and youth with autism, Down's syndrome, suspected fetal alcohol syndrome or other undiagnosed learning difficulties. Because there is no other program like this in Sihanoukville, prior to joining the program most of these children were isolated at home with few opportunities to make friends. The Special Needs class provides them with structured learning activities and the chance to interact and have fun with other children.
From all of us here at M'Lop Tapang, thank you again for your support in joining us to make sure all children have access to the help they need.
*name changed for confidentiality
Links: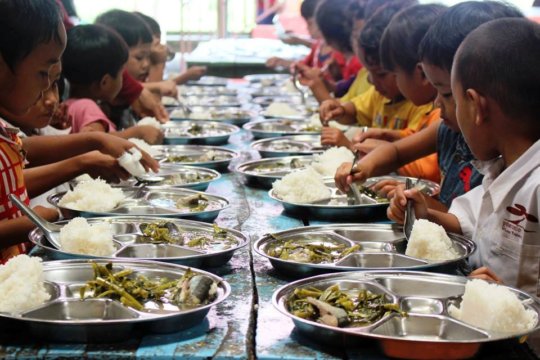 I wanted to write and just say thank you again for your donations and generosity in supporting our "Hot lunches for 500 Cambodian children and youth" project.
Children in urban poor communities, like the neighbourhoods that M'Lop Tapang works in, face high risks of malnutrition, which can undermine their physical, mental and intellectual growth. It is estimated by UNICEF that over 35 per cent of children under age 5 living in urban poor areas are underweight – that is more than one in every three children. Malnutrition causes approximately 4,500 child deaths every year in Cambodia.
With your help, M'Lop Tapang is addressing the problem in the most direct way we can. Because of your generosity, so far in 2016, more than 200,000 hot meals have been provided to vulnerable children and youth at our Education Center, Transitional Home, Community Shelter, Drugs Drop-In Center, and our Vocational Training sites.
One of the things we have been able to do this year is to increase the everyday nutrition given to children who attend preschool classes at our Community Shelter located in one of the poorer areas of the city. If you scroll down you can view a short video we made this week in the classroom there (I laughed at the boys in the second row…I guess it doesn't matter what country you live in, children will always trade amongst themselves at mealtimes).
Again, from all of us here at M'Lop Tapang, thank you again for your support.
Sincerely,
Eve Saosarin
Director, M'Lop Tapang
Links:
Hello from Cambodia!
I just wanted to write and thank you again from your support in our fundraising efforts to purchase a new vehicle that we can use to reach families and children in the local community.
With your help and in addition to selling off our old vehicles and using some additional funds we were able to purchase a great pickup truck. The truck has been ideal in getting around the local community and nearby rural areas to visit vulnerable Cambodian children and youth.
One of the ways having a new truck has helped is by assisting families living in poverty with urgent house repairs. Recently, our Outreach Team worked with Rith*, a father of three young children, to fix their small house. The family lives in a small, tin-walled house. Like other families in the neighborhood, Rith and his family do not have electricity or running water. The team purchased the needed supplies, used the new vehicle to transport the supplies and worked alongside Rith to make urgent repairs to the walls of his house, making the structure more stable and fixing the holes that let in the rain. The family now has a safer, dryer place to live. So far in 2016, M'Lop Tapang's Outreach Team has helped more nearly 50 local families with urgently needed house repairs.
Again, from all of us here at M'Lop Tapang, thank you for your generosity.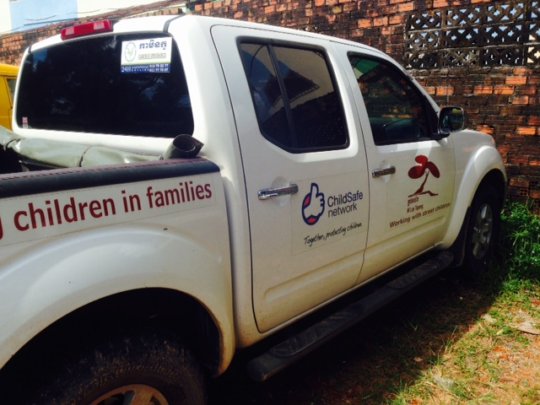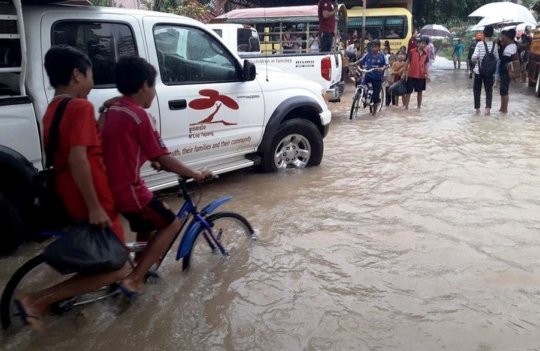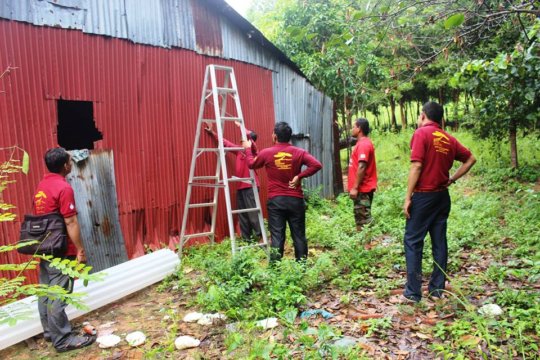 WARNING: Javascript is currently disabled or is not available in your browser. GlobalGiving makes extensive use of Javascript and will not function properly with Javascript disabled.
Please enable Javascript
and refresh this page.