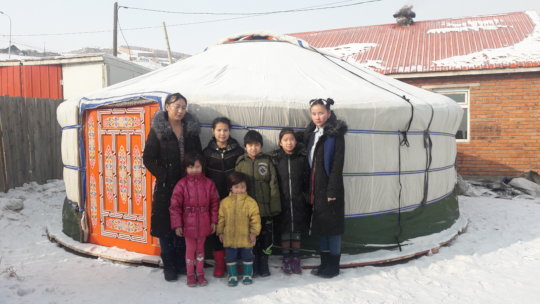 Project supported total of 36 households with food supply included flour, butter, sugar, rice, brown rice, salt noodles and vegetable oil. This activity aimed at to support those households during first steps at Graduation approach in order to ensure their food safety, full participation in Saving group meeting and sustainability of household income as well as other project activities.
During food support activity, Family clinic doctors provided information about household based hygiene and drinking water hygiene and right diet as well. Also, Governors of khoroo #5 and khoroo#22 took part in this activity and inspired those HHs for actively participating in project's activity which helps them improve their livelihood. Project selected those 36 HHs who weren't supported with ger.
All of selected families live in ger area where there is no central heating. That's why adults and children are lacking of washing facilities which help them to wash their hands regularly and keep their hygiene well. Project provided total of 30 HHs with cleaning set included soap, tooth paste, washing powder, shampoo and conditioner. This activity was aimed at letting people have proper sanitation and hygiene habits by providing them with basic needs. Household hygiene and hand washing topics were taught for those households by Family clinic doctors.
School stationary set supply
Project provided 100 children (49 girls, 51 boys aged 6-15) in order to promote school covering and decrease school drop- out of most vulnerable children in target khoroo #5, 13,22. The team included khoroo social workers, unit leaders, community supervisors and project team jointly worked on selection criteria and according to this criteria there were those 100 children were provided stationary set.
In FY'18, project supported total of 30 families with 5 wall ger in order to keep family stability, comfort, safety, peaceful condition and prevent domestic violence against children. Most of those ger beneficiaries lived in ger which are the property of someone relatives. Some rented ger and due to impossibility to pay the rent family members always felt scary. Some households lived with their relatives where there is not enough space for children to play, relax and do homework what causes children feel uncomfortable further bad impacts on their learning. Within this activity, there are 56 adults (men 19, women 17) and 98 children (42 girls, 56 boys) were benefitted providing family warm environment, parents' care and comfortable atmosphere as well. Khoroo governor office collaborated with project and provided land to some of ger beneficiaries. Total of 13 HHs out of those 30 families are selected HHs for Graduation approach.