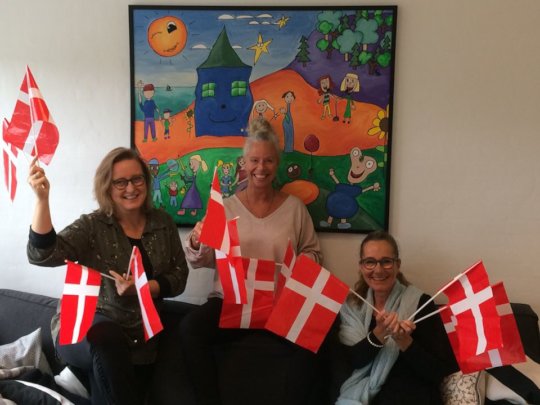 On Saturday, February 1st, the 125th anniversary of the Blue Cross Denmark was celebrated in Copenhagen with the participation of, among others, Minister of Social Affairs Astrid Krag, Secretary General of the International Blue Cross, Anne Babb, and Helle Christiansen of the Church's Army. It was a wonderful day with a grateful look back on the years since the foundation. Here is the exciting story:
1877: The Blue Cross was founded in Switzerland by the priest Louis-Lucien Rochat, who would help people with alcohol problems and their families.
1895: Blue Cross Denmark is founded on February 1st through the librarian H. O. Lange as the initiator. The first Blue Cross meetings are held in his living room.
1900: The Blue Cross now has ten local associations and a national organization is formed.
1904: The Children's Association HOPE is founded by Head of Office Carl Borgen. The work was similar to Sunday school work, but had a preventative and cautionary nature in relation to alcohol.
1906: Blue Cross' first rescue home, Kærshovedgård by Bording, opens. There is room for 32 patients. Later, the neighboring yard is also bought, so that a total of 50 residents can be accommodated.
1917: The Blue Cross now has 32,866 members and supporters in 525 local associations.
1924: 5-6 local associations have established youth departments, and HOPE has grown to 4,799 children in 90 local departments.
1940: The Blue Cross is criticized for having farming operations as the most important element of its weaning work. The Blue Cross brings together an expert group to develop the treatment, and this will have a great impact on the future.
1959: The Blue Cross National Council adopts the establishment of the Blue Cross Youth (BKU).
1960: New alcoholic care law moves care from the Ministry of Social Affairs to the Ministry of the Interior. Alcoholism is referred to as a disease and alcohol dependents must be treated on an equal footing with other patients in the hospital system. Patients for the Blue Cross homes should be visited by a physician.
1960-64: Retirees are no longer visited for alcohol treatment. The Blue Cross therefore creates nursing homes in Hobro and Skannerup.
1964: Peder Grube in Vorbasse donates his house and pavilion to the Blue Cross and erects a dormitory building so that the first children's summer camp can be held in Vorbasse.
1975: The first recycling shops open in Næstved in a former butcher and fishing business. Within a few months, recycling also opens in Aalborg and Odense. Blue Cross members and friends are hereby given new duties as volunteer staff.
1989: After some financially turbulent years, the Blue Cross is expanding its efforts. Opens the heating room in Herning and non-alcoholic restaurants in seven cities.
1997: TUBA is created - Therapy and counseling for Young people who are Children of Alcohol Abusers.
2008: Excursions and weekend camps for socially disadvantaged families are set in motion. In general, there is a growing focus on providing assistance to those in the immediate community who are affected by the addict's alcohol dependence.
2013: The child's Blue House is set up in Aalborg and Copenhagen. The goal is an early response to children from homes with alcohol abuse and mental and social problems.
As its history shows, the Blue Cross Denmark is characterized by much change and growth despite temporary structural difficulties. Thanks to your donation, children of alcoholics in Denmark can continue to be reached and their lives can be shaped positively. Thank you for your generosity!