Dear Donors,
Thank you for supporting our Life Skills project for Chadian youth. We are pleased to announce that we have reached the funding goal and the project is fully funded for 2015! Through contributions from the Swiss Government, Bread for All and private donations, we have secured the required funding to ensure project continuity and ensure expansion for 2016 and beyond.
Currently, Blue Cross Chad staff are attending a seminar in Brazzaville, Congo, with partner organizations share skills and knowledge and strengthen organizational development. The training is being attended by our own Project Officer, Madeleine Bolliger, and the president of the International Blue Cross.
We thank you again for your support! You can find updates on the project on our website or Facebook page and as always, you have been a critical element in the Blue Cross spirit of "Doing it Together"!
Regards,
Mischa Rychener
Fundraising Officer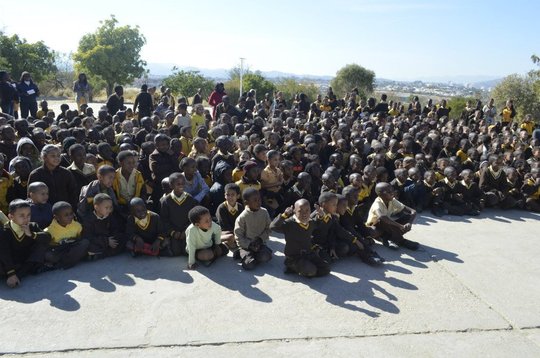 The dynamic team of Blue Cross Namibia peer educators recently visited Elim primary school to spread the word about the dangers associated with drugs and alcohol.
As much as we may not like it, the truth is that many kids and teens try alcohol during their high school years, long before they are of legal age. Research has shown that nearly 80% of high school kids have tried alcohol so it's important to start discussing alcohol use and abuse with children at an early age. This is why, in addition to its life skills programs in local high schools, Blue Cross Namibia reaches out to primary school children to begin passing messages before they reach the sensitive pre-teen and teenage years, where drugs and alcohol and the peer-pressure to try them is more prevalent.
Students at Elim primary school gave their full attention and participated in an exciting morning of active awareness! One of the peer educators told us, "we had an awesome time with these kids," which leads to the first step in prevention: showing children at a young age that you can have lots of fun without alcohol and drugs!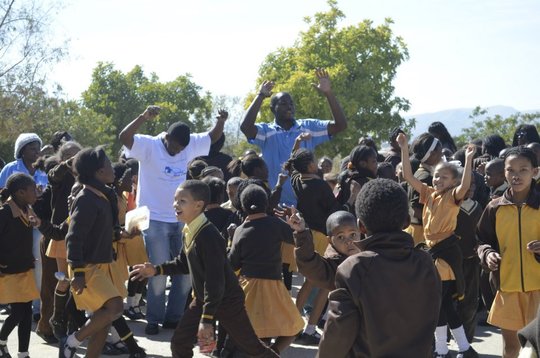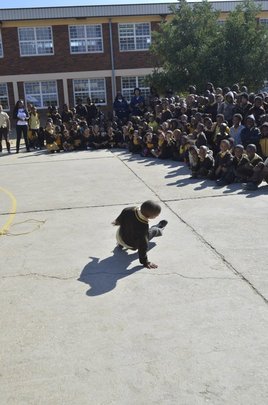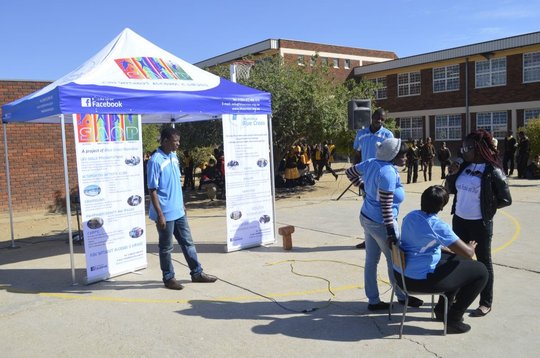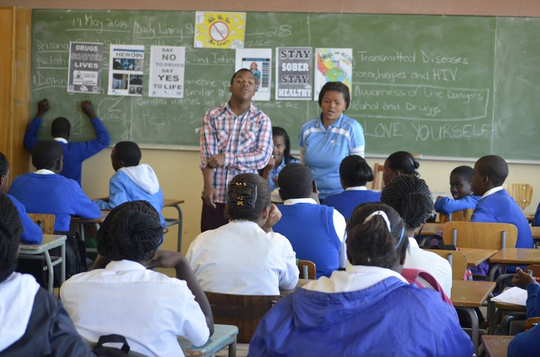 Because you are a valued donor of the Namibia School Awareness Creation Project, we would like to share an update and some photos with you. 2014 has seen the introduction of a project development phase based on the analysis of the main causes of excessive consumption of alcohol and drugs among youth in Namibia, which are:
Easy access to alcoholic drinks
Dysfunctional family structures
Absence of elementary life skills
Lack of knowledge among adult caregivers of the dangerous consequences of excessive alcohol and drug consumption
This year Cross Namibia took on a more targeted focus on life skills lessons based on the strategic goals for 2014-2016:
Increasing awareness of the dangers of alcohol and drug consumption among 10 to 18-year-olds in the Khomas region
Teaching life skills to enable young people to make conscious decisions about their alcohol and drug consumption
Promoting income-generating measures for young people to prevent poverty and the associated risky behaviour
Carrying out lobbying at the government level to ensure strict implementation of the alcohol law regarding the consumption and sale of alcohol
During the next three years the Blue Cross plans to reach 30,000 young people at 30 schools in the Khomas region in its project activities. Planned measures include 3,000 lessons in life skills and the training of 150 peer educators, as well as the establishment of new life skills clubs in partner schools.
The SACP project began reaching out to primary schools in addition to delivering life skills classes at high schools only. The new target group of primary school children was selected because of the early onset of substance use prevalent in Windhoek, which makes health promotion and prevention of addiction at primary school age especially important.
We thank again for your support! Please visit IFBC on Facebook to learn more about what the Blue Cross is doing world-wide!
https://www.facebook.com/InternationalBlueCross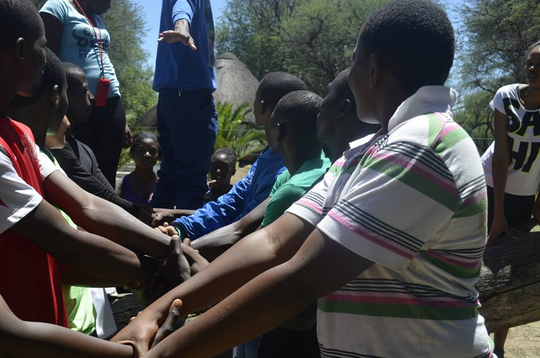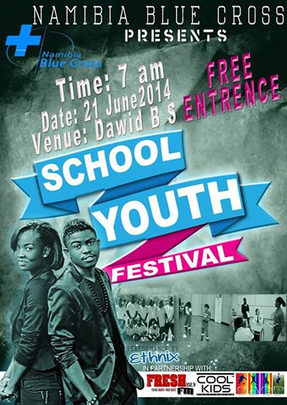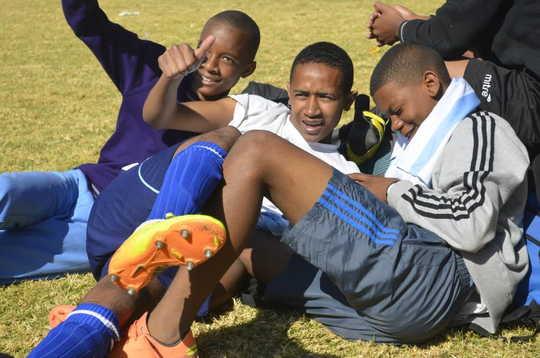 WARNING: Javascript is currently disabled or is not available in your browser. GlobalGiving makes extensive use of Javascript and will not function properly with Javascript disabled.
Please enable Javascript
and refresh this page.