For the first time ever, the students advancing from elementry schools to junior high are no longer at a disadvantage. Teachers report to us the kids are able to use computers and are ahead of other students. Students who didn't have computers in their elementary schools are clearly behind because they cannot touch type, lack hand/eye coordination, and do not know the parts of a computer.
Students using computers in first through sixth grade are learning math, reading, biology, anatomy, science and geography. Can you imagine never having seen an elephant or the ocean, a monkey or an octopus? It's true! Kids in the rural schools lack books, pictures and any reference material. The computers are bringing the world to them and allowing them to experience learning in a totally different way.
Their new challenge is to learn Microsoft Excel and Word software. The national government has mandated that every student graduating from junior high school (9th grade) must attend computer classes and receive a dipoloma. These computer classes focus on basic computer skills, MS Word and Excel.
Hundreds of students are waiting to receive computers in their elementary school. Directors tell us the teachers and parents are willing to do what needs to be done to receive computers. Their future depends on computer skills and your help is needed to bring this vital technology to rural schools in San Martin, Jilotepeque.
Hector came to us six months ago asking for our help. To graduate from high school, he has to perform 200 hours of practice in his field of study...computers. This requirement is very difficult to fulfill because there are only a few businesses in San Martin. His friends are going to Esquintla and staying Monday through Friday to work in a factory near the coast. Hector told us "I don't want to go there because I know I am now going to learn anything. They have friends who are just going to sign a document stating they did their practice." Hector said "I want to teach other students how to use a computer."
His commitment was commendable and we agreed Hector could fulfill his practice with us. He developed his lesson plans and students signed up for his classes. Hector held two 3-hour classes every day for six weeks in our office in San Martin. He taught Word, Excel, and Powerpoint to high school students. Under his direction, 42 young adults have new computer skills which will give them a competive edge in their classes next year and beyond.
The schools in the remote villages do not have computers. Kids lucky enough to attend high school are sorely lacking even the basic skills to turn on a computer and use a mouse. We aim to provide computers in elementary schools so the kids living in the rural villages are not left behind. The reality is parents in rural villages do not have resources to pay for tuition, uniforms and school suppies. If the kids have computer skills they can compete for scholarships and be able to attend junior high and high school.
School goes from January to October in Guatemala and there are hundreds of students waiting to learn how to use a computer. Most kids in the U.S. have learned how to use a device by the time they are 5 or 6 years old. Not the case in rural Guatemala. These kids have never seen an iPad or laptop. With your gift we can change their lives and help them attain a higher education - the only pathway they have to get out of the devasting poverty they struggle with every day.
Please partner with us and the kids in the rural schools - support our technology in education program now so we can install computers in the rural schools and be ready for the kids in January.
Links: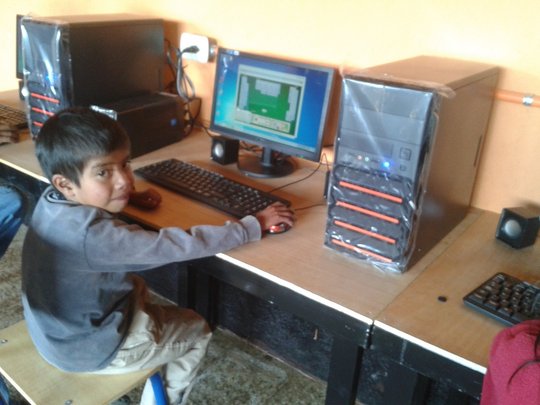 Elias lives in Pueblo de Dios, a remote village in San Martin, Jilotepeque. Since there is no school in his village, he has to make the 30 minute walk to a nearby village to attend first grade. Kids in the rural villages in Guatemala are accusomeaked to walking forth and back to school but for Elias, it is a particularly difficult struggle.
He was diagnosed with a congential heart defect when he was two months old. At the time his mother was told he would have to go to the United States for surgery but an impossibility for the family for many reasons. His mother didn't take Elias back to the doctor. During school physicals in July, 2014, Elias, age 8, was examined and immediately transferred to our health clinic to see our staff doctor, Dr. Gaby Hernandez. He was severely underweight among other problems. He is now in our nutrional program, receives vitamins every month, and is improving.
His school received computers last month. It wasn't an easy task but the teachers and parents worked together to paint a classroom, install security bars on the windows, install dedicated electricty to the classroom and the teachers attended computer classes at our field office in San Martin. After 4 months of preparation, 15 computer were installed and now 95 students are attending computer classes each week.
For Elias and his fellow students, it is the first time they have touched a computer. Their expressions of joy and amazement are immeasurable. Teachers now have educational tools they never thought possible (70% of the teachers in San Martin have never used a computer). Education technology will benefit these students in ways yet to be discovered.
The Santo Domingo school is the 13th school to receive computers through our ongoing project "Bringing teachnology to rural schools in Guatemala". We continue to have a growing list of schools requesting computers. Your support is needed to help us expand to those schools waiting for help. Please donate today.
Links:
WARNING: Javascript is currently disabled or is not available in your browser. GlobalGiving makes extensive use of Javascript and will not function properly with Javascript disabled.
Please enable Javascript
and refresh this page.