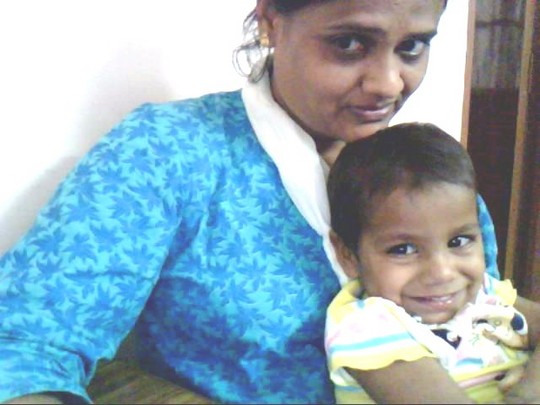 Dear Donors, Thank you for your continued support. We have tried a different way of reporting our activities this time. The following is the story by single adoptive mother Nalini, in her own words who CSA supported in her process. Moreover , please remember that on 16 March 2010, GlobalGiving will be matching all donations made to this project on www.globalgiving.org by 30% (up to $1,000 per person. Please do donate and spread the word for CSA to contribute on that day. Here goes the true tale:- My own feeling ….. "You are single and want to adopt a child! That is impossible", said my parents. My mother immediately went to her room, locked up and started crying. I also saw tears in my sister's eyes. They wanted me to get married and have my own biological child like my two siblings. My dreams of adopting were shattered. My greatest challenge was in getting the approval of someone who would give the undertaking for the child I was to adopt.My friend Mala willingly agreed to give the undertaking for the child I was to adopt. This turned out to be a giant leap. I filed my papers for Adoption on September 11th 2009. My social worker Vanita fixed the home study on 24th September. It was a much tensed period as my parents were still against it. After my home study, there were greater challenges ahead. I approached many Adoption homes in Bangalore to know that there was a long waiting list and the preference was given to couples without children. I being unmarried and single was also not in my favour. Then my friend Anita came to my rescue. She gave me the contact number of Mrs. Usha Pillai of CSA. I had a telephonic conversation with her and she seemed very positive. She forwarded my details to two of her coordinators- Lucy Mathew and Pallavi. On November 11th I received a mail from Lucy Mathew informing me that there is a child of my requirement at Latur, Sishu Mandir. I spoke to Mrs. Gaikwad at Sishu Mandir and decided that the child Nisha located for me was my child. I did not ask for any snap of the child but went by Mrs.Lucy's words because I knew she was trustworthy. She told me that the child was medium complexion and healthy. That was enough. I started working towards visiting and getting the baby destined for me in the same visit. My friend Vidya accompanied me to Latur. So, the date of the visit and getting the baby was finalized to 8th December. It seemed that God had finally heard my prayers! One week before I was to leave for Latur, my parents changed their mind and gave me full support. My father even accompanied me to the lawyer and the Police commissioner's office to get all the documents ready for adoption. His support was great and gave me so much of strength. I was now set with all the documents and was mentally prepared to bring home my child. My first meeting with Nisha was to be on 10th December. As the day approached, I was very nervous about it. Every child I saw on the way, made me wonder if my child would be like this. As I was waiting impatiently for her, Nisha was brought to me. She wore a red frock which was too long for her. She was so different from all the children I had ever imagined. She was very weak, with scanty brown hair and looked under nourished. To add to this, her hair was well oiled and combed into a side partition and her face was powered (extra). She was crying when they got her out. I did not feel like carrying her and I almost asked God why has he sent this child to me? I was angry and upset and I felt like crying. I controlled all my emotions. Vidya carried Nisha first and as she knew marathi she started the conversation with her. I was still wondering if I should carry her or not. Finally, Vidya asked me to carry her and I did it reluctantly and realized that she was so light. We spent around one and a half hours with her. During this time I saw her more closely and realized she had long black eyelashes though her hair was brown. I presumed that this could be due to malnourishment. She was a normal and active child. But as every one had warned me I wanted to subject her to a thorough medical checkup. The medical report turned out to be good except that she was malnourished. I decided to adopt Nisha. I submitted all the papers to the court for adoption and on the next day, 12th December we had a court hearing which went off well and by evening she was my child. My next step was to prepare my family members for accepting Nisha- I was so worried about how my parents would accept her as I myself had taken some time for this. I was surprised when they accepted her readily like any of their other grandchildren. Now Nisha has become Amodhini – one who gives happiness. She wants to be called Amo and not Nisha or Amodha or Amodhini. She goes to a play home close to my house. Both my parents have many things to tell about her everyday when I reach home from work. Now she is my dad's pet. He drops her to school and picks her up every day. Amodhini has really brought happiness to our house. Hope you have overwhelmed by this heart warming story as much as we have in CSA. Please keep contributing to our cause so that we can keep bringing to you many more such stories by addressing Child Right through Child Adoption and Orphan care. With Thanks and Regards, Rassull CSA
Dear Friends!
with your donations we are making inroads.I would like to share the story of Avantika This little differently abled orphan girl was believed to be a nuisance to the agency and was seen as a threat to other kids. There was a point ,when she was no longer wanted .CSA ,took the challenge and facilitated and sponsored her to a Care Home –Sangopita,which is specialized in supporting differently challenged kids.And the following report shows ,how like a Phoenix she rose back to life. From a lonely and aloof child she now mingles with all the other children and feels herself to be a part of The Sangopita Team.
Progress Chart--- Ms. Avantika Areas On admission As of now Physical Height 3ft 2 3ft. 10 Weight 15 kg. 22 kg. Appearance Normal Personal Hygiene:- unclean insists on clean linen Toilet training:- Uncontrollable bowels Independent. Speech unclear Better clarity Medical Special Conditions Regular fits improvement salivating Under control Crawling on knees Walks Skin problems Reduced
Behavioral Mingling none Started self biting is friendly Co operation with caretakers none Approves Aloofness wander alone Mingles with others Interest in Study none Takes interest
True to the meaning of her Indian name…Avantika…she is the first flower to blossom in the season…and CSA thank you all to be a part in the process of that nurturing.
Thanks and keep on helping us to help the Orphan kids in need
Here is Avantika as today
Dear Friends,
Greetings from CSA!
Thank you so much for your support. As an update from the field we would like to share the following points- • 17 child adoption has been facilitated and 25 cases are in the pipeline. • Childcare workers training conducted 3 times. • 1 no. of renovation of children's home done. • 6 adoptions agencies are helped with baby clothes and foods. • 32 kids (20 in Maharashtra and 12 in Orissa ) are being supported with their education (tuition and support). • Construction of toilets is done in one childcare home.
With your constant support we are spreading our wings and bringing in more and more beneficiaries under the wing. Please do spread the word across about our project in your network as we are in need of funds.
Thank you again and looking forward to your continued support
WARNING: Javascript is currently disabled or is not available in your browser. GlobalGiving makes extensive use of Javascript and will not function properly with Javascript disabled.
Please enable Javascript
and refresh this page.