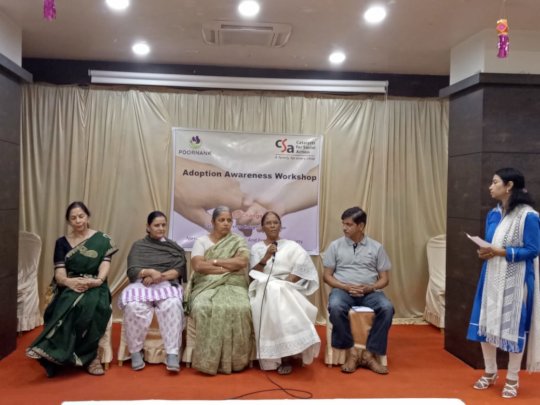 In the area of enabling holistic child care, we support child care institutions in the areas of Health & Hygiene, Sanitation, Nutrition, Education & Life skills, Infrastructure support, Recreational activities, Vocational skills, and aftercare.
CSA not only cares but also goes beyond thus, enabling children to be self-sufficient and become contributing members of society.
As a part of optimal child rehabilitation, CSA facilitates Adoptions in the country; we work with existing adoption agencies in rural areas to facilitate the quality, speed, and a number of adoptions in India. We have successfully facilitated over 200+ adoptions in India, so far. We believe that Adoption is the best form of child rehabilitation. Our intention is to ensure that every adoptable child should find a home.
It has been observed most of the time that once the child is placed in the family, we think and sometimes hope! that everything is fine and now we have found a permanent solution for the child and adoptive parents.
Ironically, adoption is still not welcomed in a positive manner in the society. Adoptive parents and adoptees face lot of issues in socializing and discrimination is experienced at every step. This results in a form of isolation of the child, getting addicted to various vices, aggressive behavior of the child or even merging with antisocial groups. Anothr lingering thought - what's the process in order to go for birth mother's search and what is the exact procedure for it?
Parents on the other hand are always under fear or pressure how and when to tell the child about the facts of his/her life. Whether to tell or not? If the child comes to know, he/she may go to find out birth parents and we may lose him/her. How to handle the question which comes in related to resemblance with the family? What type of language and attitude is appropriate as per the age of the child?
To find out the answers to all these issues and questions, a workshop for Adoptive Parents was arranged in Pune, India on 17th November 2018
Our objective was to make the adoptive parents and the adoptees strong enough to face the society and to help the children to get into the society without discrimination.
Making all possible solutions available was the purpose to create a forum of support which is always needed by the parents and adoptees.
Many points were discussed at the adoption awareness workshop -
CSA's work in adoption stream
Stigma attached to the concept of adoption (before and after the adoption)
The workshop shed light on how to deal with the family and friends and get their positive support to start adoption Journey
How, what and when to tell the child that he or she is adopted?
How to answer children's related questions according to their fear?
Fear of whether my child will go for root search (search of birth parents) was discussed positively
This workshop catered to adoptive parents biggest fear of "talking about adoption" with the extended family members, family members, partners, neighbors, relatives and ultimately children. Many times, people change their decision to adopt as they consider this will make them face many odd situations. To address these issues, we have focused and targeted discussions and possible solutions to all those situations which are big hindrance for the adoptive families and ultimately adoptive children in socializing.
All in all, the workshop was very positive and beneficial to all attendees.