I want to extend my greetings to our donors, friends, and well-wishers who continue to support the project. I am happy to report to you, that the children are all at school for the third and final term of the year. Asiimwe and Prossy are sitting for their Ordinary Level certificate this term. If they perform well, they will be able to join College for Certificate courses that will prepare them for their future career. I am glad we have supported them this far.
The rest of the children, Tayebwa, Bright, Kenema, Kirabo, Evas, Tumwine, Gladys, Nsimenta and Natasha will be sitting for their promotional exams and will join a higher class when the schools open for the next term in 2018. We have had challenges maintaining them in school this year but I am still glad we have come this far. The children's fees remain unpaid to date and we continue to call for support. The year has generally been challenging but the project continues to benefit from Mr. Niwagaba's kindness and interest in the project. He has continued to support the project financially even now when he is away. We have for the period between August 2017 to date directly benefitted from his stipend in Sweden to continue providing for the children's needs including putting food on the table.
The Project Leader is currently away to pursue a MSc. Development Studies on scholarship in Sweden. I will be standing in for him and we are hopeful that we that we as an organization will have a lot to benefit from his international experience. The Project is here to stay. We are currently vetting two young girls that will take up the vacant positions to fill the working number. Sadly we will not grow beyond 15 children next year BUT we are happy to continue making our contribution to shaping and giving these children a future. Project continuity will be achieved with your help and support especially as we enter the festive season and eventually the new year.
I would like to extend my greetings to our donors, supporters, friends and well wishers. Greetings from Ngoma Aid Foundation.
It is an exciting time for us at Ngoma Aid Foundation because we were honoured to be visited by the Global Giving In -Field - Traveller in the month of June 2017 and Mr. Niwagaba (Executive Director - NAF) was granted a full time paid Scholarship to study a Msc. Development Studies at the Prestigious Lund University. The information that was shared by the In field traveler was timely for Niwagaba to utilise while in Sweden for study and the knowledge acquired at Lund will be of great help to the organisation and its beneficiaries. Despite the financial challenges, the project is still moving forward.
The children are currently in school for their second term of the year. The schools will break off in the fourth week of August for close to a month and then resume for the third and final term of the year. I have yet again signed fees commitment letters to guarantee that the outstanding school fees will be paid at a later date and have requested that the children continue attending school and taking part in all school activities as we work out the finances.
The Global Giving In - the - field - traveller (Rothwell) shared with the team very useful information on how to engage and being effective on the Global Giving platform so as to improve on our fundraising for the project(s).This is something that i promised to give much of my time when I am away for studies in Sweden so that the Foundation fully expoloits all the fundraising tools to our advantage.
The project is on going and still very relevant to the children (beneficiaries). It is thus my humble request that you continue to support this project and the Foundation in general. Thank you for your support and thank you for keeping the hope for these Childrens', future alive.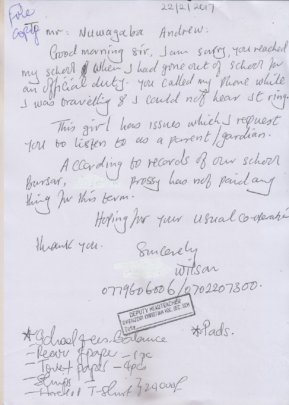 I want to extend my greetings to all our friends, well wishers and donors and thank them for their continued support. I hope and pray that all is well.
The children are fine and the first school term holiday begins in a weeks time. The children are expected to be home for a 3 weeks holiday and then report for the second term. Ponsiano being in a candidate class will have stay at school for holiday classes and pay an extra fee as requested by the school management. Natasha has spent a school term in boarding school at the Prestigious Kigezi High School (I went to this same school between 1988 to 1991 and it greatly shaped the person I am today) and we look forward to having her back home and listen to her stories about her first term in secondary school. Gladys changed school from King Jesus to Kasese Secondary for strategic reasons and she has had a good term so far and likes her new school.
The first term has not been an easy term and the students have been in school on good will and our good public realtions with the Management of the different schools they attend. The country (Uganda) is faced with proplonged drought spells and most of the food crops have failed. People are starving to death in some regions and some are feeding on termites as reported in the news.The economic situation is getting worse by the day and essential items and food prices have shot up. As Management, we agreed that all children who attend day school should have lunch at school so that we try and minimise our food bills and are completely sure that the child had some lunch. This means that they only have supper at the House. As expected the boarding students have all the meals at school. I'm happy to report that despite the hardtimes, we are still able to provide food for the children, most importantly with your help. We also engaged the different school managements to allow the children participate in all school activities and attend classes even though we have not paid their school fees so that they do not miss out as we look for the money to clear these bills and that is why i insist that Yes we can do this people!
The second school term begins in about a months time from now. The children still need our support so as to continue with their education. The project is still useful and calls for your support. The current challenge is much bigger now because we are now thinking and talking about the second term yet we have not yet sorted out the first term school fees. Yes, we have a bigger number during the holidays and the food bill will need extra attention. More than ever before, i completely think that this can be done and the project is achievable. I continue to request for your support. I totally believe that Yes, You and I can do this. Keep the support coming
Attachments:
WARNING: Javascript is currently disabled or is not available in your browser. GlobalGiving makes extensive use of Javascript and will not function properly with Javascript disabled.
Please enable Javascript
and refresh this page.