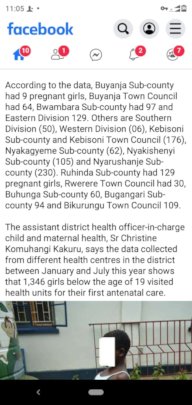 Greetings to you all our donors, friends and well wishers. I hope this report finds you safe. I am sad to report that schools in Uganda remain closed due to the Covid 19 pandemic and as such, we have not been able to do much on the project. The recent presidential address to the nation indicated that schools are set to open in early 2022. As it stands, school going children are at home and it will be two years in January 2022 since many of the children in the country last attended school.
In more depressing news around the current, the local media is awash with stories on increases in teenage pregnancies across the cou8ntry. Whereas this project was intended to create awareness about sugar daddies taking advantage of unsuspecting young school girls through cross generational sex and something for something sex, we have nopt been able to achieve much because our target group is not in the space we hoped to find them.
As a result, the country is headed for a situation where we will have many young/teen mothers some of whom may never get a second chance to go to back to school. Some of these young mothers have become victims of early marriages and ridicule in their communities. While this project might not help the current victims, we are still committed to spreading a positive message of caution once the schools open and if we have the tools and resources to conduct the sessions. It is for this reason that we request for your support for the project. We need to protect the girl child – Together we can.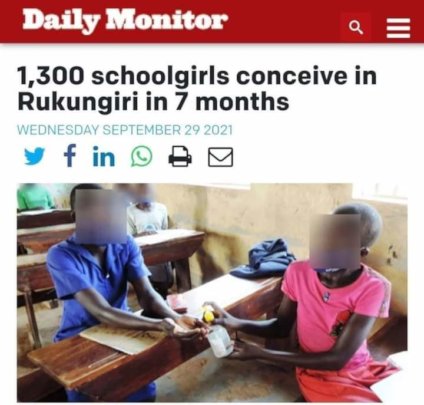 Greetings to you all our donors, friends and well wishes. It is always a pleasure to reach out to you and we thank you for your continued support. It has been a pretty tough to years as a result of the covid 19 pandemic disruptions and more specifically it has been a challenging year 2021 so far. Never the less, the children are still in good health and we have had some relative peace on several fronts.
On a good note, I am happy to report that Isaac and Natasha passed their Primary Leaving and Ordinary Level examinations respectively. Isaac will be joining secondary school whereas Natasha qualifies to continue to High School or branch off for a certificate course in either teaching or nursing. It would be wise for each of them to continue with formal education.
On a sad note, I would like to report that schools in Uganda have been and remain closed due to the pandemic for close to two years now. The recent presidential address indicated that schools might reopen in January 2022. Other than Isaac and Natasha, none of the other children will have been to school for two years when they reopen in January 2022. While we acknowledge that alot of school time has been lost and given the psychological implications this might cause to the children in the short and long term, our focus during this pandemic has been on equipping the children with other home/social skills. The children have been busy in the garden, done house chores such as cooking, cleaning etc. We were unable to enrol them to the much hyped online studies in this country where the biggest percentage of the population does not have access to electricity and gadgets like a computer. Yes we did not have the tools and data later on the dues to facilitate the inline studies and we are hoping that they will start school as soon as schools are open for all the children countrywide.
Our focus at the moment is to try and live out the reminder iof 2021 in terms of food provision and other household requirements that make our work possible. Most importantly. we are working hard to ensure that we are able to raise the school fees and scholastic materials required to send the children back to school in early 2021. We will need the household provisions flowing too and it is on this note that we request for your continued support as we continue to shape the future of the project beneficiaries. Thank you always.
Greetings.
Our planning was not supported by the elusive nature of the Covid 19 pandemic. Schools in Uganda are partially open and even then, their is a possibility of another lockdown due to the latest strain of Covid 19. Reports indicate that lesser numbers of students reported when schools were partially opened because most families are struggling financially after over a year of the Covid 19 lockdown and curfew allover the country.
We have not been active in any way on this project other than identifying the partners that we think we will be able to work with post covid 19. We are actively reaching out to you our friends and well wishers to support the project as it triesto gain shape. We are sure that it will be very importnant to engage these young school girls on the dangers of sugar daddies at a time when poverty will have drastically affected many householders particularly among low income groups.
We look forward to your continued support to the project. Keep Safe
WARNING: Javascript is currently disabled or is not available in your browser. GlobalGiving makes extensive use of Javascript and will not function properly with Javascript disabled.
Please enable Javascript
and refresh this page.