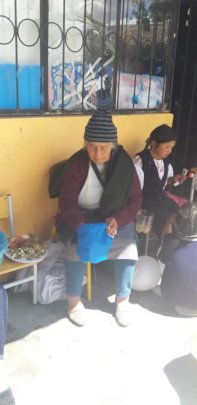 I hope all is well and you are staying as safe as you can during these testing times. Whilst Latin America has so far not been affected as badly as other continents the governments are taking no chances and have implemented severe travel restrictions, school closures and isolation policies. All our projects are currently closed and the elderly in particular are being protected in their homes.
None of our communities have been affected by Covid 19 and they are taking all the precautions they can, though lack of running water is an obvious issue. For example in Perú the families normally only receive water from 5am to 7am to store in buckets for the rest of the day although this has always been inconsistent week by week.
In Honduras the college students, as part of their course, received training in Covid 19 information and were due to make presentations to thirty rural schools in various communities though the government have since implemented a complete shutdown. These presentations will now be made once these rules are relaxed and it is considered safe to do so. As part of our Ecuador charity challenge we will be reforesting 1,000 trees around Tabla Chupa, the natural spring which is the source of water for many families in the region.
Water has always been an issue where we work. Previously we installed water-storage systems in Guatemala and Perú and we will be implementing a program of rain-collection tanks in all our communities to store water for the dry seasons in the future which will help families and irrigation for our Sustainable Plan Huertos.
The projects will continue in the future
During times like these we understand that charitable donations are generally nudged lower down in household budgets as belts are tightened to prepare for an uncertain immediate future.
Thanks to many of you over the past twenty years, which have themselves been extremely turbulent at times, we have been able to continue to highlight the plight of the communities where we work and we have been able to do something about it sustainably through thick and thin. Now is no different.
No matter what happens over the next few weeks and months, we will strive to continue our work as best we can with all the resources available to us during this time and for years to come.
Little By Little Campaign
For all our US donors, GlobalGiving will be matching all individual donations up to $50 by 50% between Monday 23rd March to Friday 27th March which is brilliant news and will definitely help us through the next few weeks and months if you can donate, no matter how small.
To put this into examples, a donation of just $5 would be $7.50 for two weeks of gas for school meals.
A donation of $10 would be $15 for one month of classroom materials.
A donation of $20 would be $30 for one month of fruit for a class of children.
A donation of $30 would be $45 for a traditional celebration with food in a school.
A donation of $40 would be $60 for a small sustainable income vegetable garden plan for a family for years to come.
A donation of $50 would be $75 for one week's salary for a local graduate teacher in charge of between 20 and 30 students.
We as Phoenix will also be matching our reforestation program of planting one tree per $10 donated in our effort to help offset the problems of deforestation and the effects of climate change as trees help reduce carbon dioxide from the atmosphere. So every $10 donated this week means two trees planted. Brilliant!
If you can, please help our communities in Honduras, Ecuador, Perú and Guatemala make the most of this fantastic opportunity and donate whatever you can this week – as you can see, it makes more than a difference and we get much more bang for your buck. Please also feel free to share this link with friends, work colleagues and family!
At this stage we will be undertaking our charity challenges in Perú and Ecuador in May and June still, which obviously depends on advice from local and international authorities (and not social media!).
Many thanks for anything you can donate and please take care.
Cheers