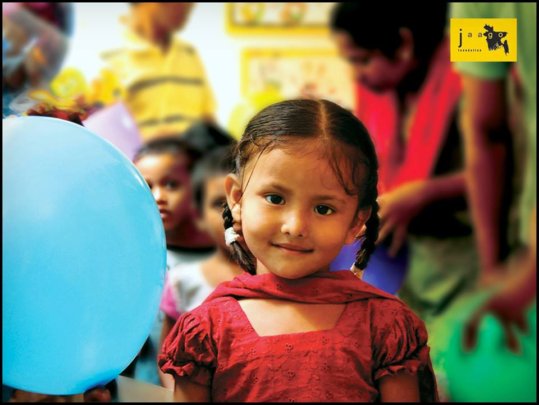 Celebrating the Roots, Celebrating Bengali New years
"Esho he Boishakh esho esho …." (Welcome Boishakh, welcome) humming with the tune of this soul vibrating song tune we embrace the 1st month of Bengali Calendar. Children of JAAGO Foundation greeted Boishakh ( Bengali Month ) by arranging Cultural program designed with activities solely rooted and connected to our culture, colors and festive. Kids performed Poetry reciting, singing songs, performing cultural dances and put on traditional clothing. Children and teachers tagged in packs to make masks, traditional trays and cards for their guardians and friends. It was a colorful day full of Joy and smiles.
Our Independence, Our Pride
There is a wise saying: "The best and most beautiful things in the world cannot be seen or even touched - they must be felt with the heart. "
Patriotism is something giving the same similar vibe. To plant the seed of patriotism in a child`s heart is sole the core responsibility of the family and his or her education institute. Bangladesh fought for its Independence with bravery and sacrifice; every child of this nation treasures the tale of our victory and Children of JAAGO Foundation organized and celebrated our Independence Day this year with Theatrical Acts, Rebel Poetries and Cultural Activities with the support of their Teachers marking the Day to its significance.
Bringing Smiles to 2200 JAAGO Children
It was a heart-warming generous gesture from our Founder and JAAGO Foundation, taking the noble initiative to gift a total of 4,400 sets of school uniforms for the JAAGO Foundation children. It was an emotional and historical moment for JAAGO and its 2,200 children as well, as this is the first time ever in JAAGO's last 9 years journey, that each of the JAAGO's 13 school's children would get 2-sets of uniforms in a single year!



JAAGO Debate Warriors
For good ideas and true innovation, we need human interaction, conflict, argument and debate. With this line of thoughtBangladesh Debate Warriors has joined forces with JAAGO Foundationwith the aim to provide debating skills to our JAAGO School children, rebuilding them in the mean while. The founder of Bangladesh Debate Warriors had a session with our senior most batch he expressed that through this constructive partnership the glorious kids of JAAGO will be provided with a podium for national and international debate. It was an interactive session where our children came across facts like how debating will reinforce their personalities, help them to boost their confidence, assist them excel in their academic fields, and open up doors for tomorrow. Following the gameplay tips, our JAAGO Warriors participated Debate Contest in National ground and brought us glory by attaining the position of Runners Up in the nationwide competition!
'Kids Go Coding' | 1 Year of Glorification
The kids from Class 5 & 7 of JAAGO Rayer Bazar School have successfully completed their 1st year of computer coding classes under the "Kids Go Coding" program. To commemorate this great achievement, recently a celebration event took place at our JAAGO Foundation School computer lab room. Last one year has truly been a great learning experience for these inquisitive kids, who have got direct coding lessons on how to use basic logic and sequences, how to create animated effects, etc. from the brilliant coders of "Kids Go Coding" team. Over the last 1 year, as Kids Go Coding coordinators tell us, they have found the JAAGO Foundation school children to be very sincere and positive spirited. They were really impressed by these students' performances in the coding classes, especially by experiencing their eagerness to learn. They also highly appreciated the JAAGO School staffs for their continuous support and assistance. A total of sixty children from our School's class 5 and 7 were taught under this amazing program designed and executed by Kids Go Coding. Our heartfelt thanks and gratitude to Kids Go Coding for supporting JAAGO on its mission to breaking the cycle of poverty through education.
Training the JAAGO Facilitators
A teacher is always dedicated on the path of learning. The teachers of our Online Schooling Program were provided with mentoring and special training. The Orientation program included growth opportunities, evaluation procedures, certification procedures and personnel policies & procedures. Facilitators teaching JAAGO Children in numerous parts of Bangladesh travelled to Dhaka at JAAGO Foundation Principal Branch to unite with each other, discuss, get trained and brain storm to find out new methodologies for teaching JAAGO students. In the process they build up strong bonding among themselves, creating new threads of network and friendship. Teachers polished their motives and efficiency level through effective training by JAAGO Education Program Experts. A new rise to the oath taken to polish the future of our children coming from impoverished background, with Quality Education.


JAAGO Kids in 'The Duke of Edinburgh's Award' program
Under 'Bronze Award' category of the world-renowned 'The Duke of Edinburgh's Award' program, a group of our JAAGO School children recently visited the historical and archaeological sites of Sonargaon heritage city.
As part of the program, they took part in a series of scheduled activities: social responsibility campaign, dance, sports and an adventure-tour. The event duration was 2 days and 1 night.
End Note | Thank You
We wholeheartedly thank all our supporters for where we are now. This was only possible only because we stood by each other. Only thanking you will not suffice of what you have done for us.