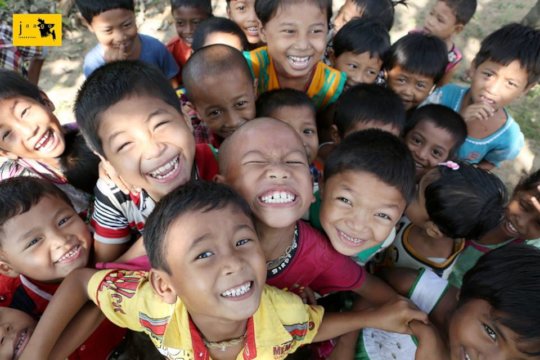 Starting of a New Year with New Faces and Dreams
JAAGO Foundation started the new year of 2019 with new faces, aiming to shape new dreams. We are now blooming and thriving with growing numbers, shaping the dreams of thousands by giving them a taste of mainstream education to the community to whom, education is a luxury which they can not afford. We started the journey with a vision of empowering education with a room, a white board and only 17 students in a slum. Today, standing on the verge of our 12 years journey, we have 3500 students in 12 districts across Bangladesh.
Here at JAAGO, we provide education in Governments English version curriculum following an innovative approach. Each year, we recruit 500 students in our schools where each branch admits 40 students in Reception grade only. To make sure the best usage of your donation, we follow a specific process for admission. During the procedure, we asses more than 2000 – 2500 application for selecting best 40 by intense screening process. We consider their family background, financial status, interest towards continuing studies, residing history in the School area and many more. These procedures are conducted because we want to nourish a student till their graduation and ensure 0% dropouts.
This year, a number of total 500 students joined us with a dream of a better future through education. With your contribution, we want to change these students course of future with their family's condition as well. After years of hardships and struggles, now we can say the parents are more willing to send their kids to school. The scenario had changed a lot than it was in 2007. Submission of around 3000 applications for only 40 seats clearly showcases that scenario in the same community. This is something we are proud of and thanks for all your supports and love towards these economically disadvantaged children for helping them with quality education.
Boosting Confidence with PEC Success: Passing with Flying Colours
The year of 2019 started with the glorious light and good luck for us. Students who have had started their journey with us from reception grade, sat for PEC Examination (Primary Education Completion exam) which is a Bangladesh Government's certified examination while promoting from Grade 5 to Grade 6.
Students of JAAGO had attained 100% passing rate, keeping their marks with stunning results. The result of the PEC has been published in the last week December, 2018. This has been surely an achievement for the students who faced board exam for the first time. And it has been an inspiration to beginning the New Year. We are really happy to share with our supporters that a number of total 58 students passed with flying colors. We would like to express our heartiest gratitude towards all the supporter of JAAGO, who has been continuously supporting these students to reach the landmark of PEC.
Quality Teaching Starts With Quality Teachers
JAAGO believes in working with quality education rather than providing education in quantitative manner. Thus we have only 3500 students in last 12 years of journey. To ensure quality, we need to work on the core of the education program. Therefore, we organize teachers training in different branches of JAAGO in different intervals.
Recently, we arranged a fruitful workshop in one of our schools. Here, LMHC (Licensed Mental Health Counsel) from USA joined us, taken workshop about improving teaching skills and classroom management. It was an interactive and inclusive session where below topics were covered:
1. The loving and struggling part of teaching (Individual opinion sharing)
2. Classroom Management
3. Anger Management
4. Time Management
5. Conflict Resolution
There is something which has been faced by any teachers while taking courses. They discussed different opportunity, obstacles and challenges from different perspective and exchanged suggestion to improve the classroom experience. JAAGO is welcoming and open towards these kinds of third party involvements. This enables us to maintain the quality of teaching and learning.
Bringing The Best of Students: Emphasizing on Extra Curricular Activities
Each year new enrolled students of JAAGO fears to have dreams because of their extreme background of poverty. However, once they are settled after few days, JAAGO nurture these young stars in a way which shapes them into confident human beings who are confident, believes they can change their lives as well their families. Now, at the starting of year 2019 journey, our student can proudly say JAAGO has given them hope of a better future while they excel at public examination and extra-curricular activities.
Last year it was a golden success for us, as JAAGO Foundation became jointly Runners-up in an inter-school Group Debate Competition called "1st International Education, Career & Cultural Champions Trophy Bangladesh 2018 on Global Tourism". Asif Bhuiya | Grade 6 represented JAAGO School and his success will definitely inspire rest of the students.
In 2018, our children participated in a Public Speaking Competition and Reading Competition, organized by JAAGO Foundation. Along with mainstream education, we believe in developing the students with self-confidence, ability to improve self-representation and ability to use their creative minds. Thus we organize these kinds of extra-curricular activities to bring the best out of the students of JAAGO.
Manifesting the feeling of Patriotism: Remembering The Liberation War
In the map of the World, Bangladesh has a very powerful and tragic history behind its liberation. We are the only nation fought for our mother tongue, the language of Bangla. Passing on the memory and history of Liberation, we try to give proper knowledge to our students from very early stage of their life. This year our 2nd Grade students learnt about our liberation and presented via drama based on the story. These children learnt it from our history books so that they can feel the meaning of victory on Liberation war in 1971. An Impeccable drama named " A Golden Leaf of Liberation War" has been played by the 2nd Grade students which inspired them to know more closely about Liberation War of Bangladesh.
Thank you Note
2018 looked a lot brighter because of your support! We cannot express the impact that has on all of us here at JAAGO Foundation. Words are sometimes so inadequate for your love and care. We thank you for all you have done for JAAGO Foundation, and we are looking forward for your kind support and endless love for 2019.