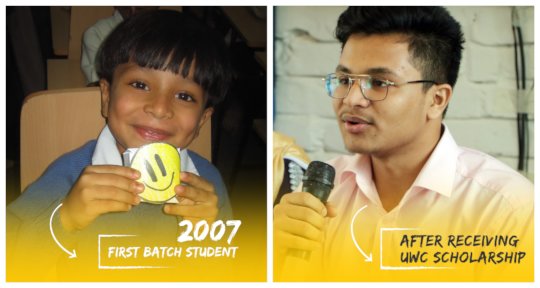 JAAGO started its journey 12 years back with one school and the only vision to provide quality education to underprivileged children. After completing more than a decade's journey, JAAGO has reached a position where we are witnessing the outcome of our efforts.
To many it might seem like a story, but this story has now become a real life example of the phrase "Hard work pays off". Siam is an ordinary slum boy, came to our first JAAGO school when he was six years old. Recently, based on his results and co-curricular activities, he has received a 100% scholarship to study in the prestigious United World College (UWC) in USA. UWC has 18 colleges around the world including USA, Singapore and India. After a very competitive process, this year UWC has selected 30 applicants from Bangladesh and Siam is fortunate enough to be one of them.
Siam belongs to an average family who lives and works in the Rayer Bazar community. His parents are astounded by his achievement and very grateful to JAAGO! Siam believes that his achievement is not only because of JAAGO's quality education but also for the love and care he received from the team. Although it was very competitive but Siam's merit, skills and vision helped him accomplish the first step towards his dreams of becoming a doctor. JAAGO aspires to set many more examples like Siam and inspire children from disadvantaged backgrounds.
Prospects Of Creative Learning
It is always exciting for children to find themselves in a competitive environment! Being from a disadvantaged background has many diverse effects on our children and we are always searching for opportunities to educate them as well as entertain them. Hence, we organize extra-curricular activities for them. In this quarter our Teknaf School arranged for a reading competition in both Bengali and English for the students of class 1, 2 and 3. The children read out from their favorite books to their class and our teachers selected the winners of the competition. As it was a competition, it surely circulated a tension and excitement at the same time among the students! Everyone cheered for their friends who won prizes! 1st, 2nd and 3rd prizes were given to 8 winners in total from 2 categories (Bengali and English). The winners received books as their reward.
Our Chittagong school organized for a spelling competition for the students of Class 2, 3 and 4. This was also divided into two categories: Bengali and English spelling. A judge panel was set for evaluating the students. Children in the Chittagong school learnt and enjoyed a lot throughout the whole process. In the end, the education coordinator announced the winners and distributed the prizes.
Enlightening Young Minds With The Knowledge Of Virtues
Education is the most significant skill in a child's life. Education makes them confident, competent and guides them throughout life. Yet there are a variety of social issues and behavioral practices that JAAGO believes children need to be taught while they are young. Children have much greater capability of learning faster than adults. They easily tend to learn what they see and when they experience aggression, violence and cruelty around them, it is more likely that they would be influenced by these actions. JAAGO, in partnership with NGO and INGOs, conducts several workshops and teaching sessions for the students. In the month of September, a theme based workshop titled "Non-Violence & Tolerance" has been held in JAAGO's Banani School. The session became very interesting for them as it comprised of visual interactive sessions along with presentation. The students also expressed their thoughts and feedbacks in the workshop.
The rise of crime is a major problem in Bangladesh. Ranging from children to elders, no one feels safe at their own place. Although the authorities are always using their expertise to solve this issue, but JAAGO believes that it is us who can make a major difference if we are cautious and vigilant. Recently, JAAGO has conducted an awareness session in the Rajshahi school. All the parents of the students were invited to attend the session. The topic of this awareness session was "Kidnapping and Safety of children". Parents were guided to be more careful about their children and their movements. The trainers also answered various questions by the parents.
Nourishing The Mind And The Body
A lot of our students come from families where affordability for health check-ups is a vital problem. Sometimes they have impoverished health conditions and also suffer from minor health issues. JAAGO Foundation's youth development program Volunteer in Bangladesh (VBD) campaigns for many social issues and try to raise awareness in the community. Our VBD team of Chattogram district organized a Free Eye Camp and Blood Grouping Event in September. This initiative was taken very positively among the local community. More than 200 students received free eye check-up, blood grouping and medicines for any problems identified.
We always tend to think about physical fitness above all. But do we give enough effort on mental health of children? The answer to this might be negative, but we can always take necessary steps to improve further! In this quarter JAAGO Foundation's psychologist conducted a mindfulness session in the Banani School. In this session the children participated and learnt about meditation. In an informal setting they were taught about the purpose of meditation and asked to perform it by themselves. When they tried, there was fun and laughter everywhere! Still they concentrated with their best efforts. The session ended with the students thinking and explaining about their dreams. It was a very interesting learning for them!
A Search For New Prospects
University of Liberal Arts Bangladesh (ULAB) signed a memorandum of understanding with JAAGO Foundation at the university chancellery in Dhaka. As a part of the MOU, the university would host the students of Class VIII to Class X of Jaago Foundation schools twice a year. The university would invite students and give them an advanced experience of the university. The students will visit the university campus and receive basic training on various topics. This will give them the opportunity to experience a university environment beforehand and also help them think and decide for their future. On 25 July, the students of class 8 & 10 went to ULAB's main and permanent campus. They visited the Library, IT Lab, Classrooms, Auditorium, Permanent Campus, played Cricket Match in the ULAB Ground and also Indoor Games. The students enjoyed the trip very much and look forward to more visits like this!
Gratitude Note
Our largest project, "Free of Cost School for Underprivileged Children" is making progress only because of our individual donors, corporate partners, INGOs and NGO partners who support us selflessly! These children from disadvantaged economic backgrounds would not have had the chance to build their lives if there was no support from all of you. Your generosity motivates us to work relentlessly for the future of these children. On behalf of all the students, teachers, parents and employees of JAAGO, we would love to convey gratefulness with all our heart. Please continue to show us your love by supporting our project "Free of Cost School for Underprivileged Children".