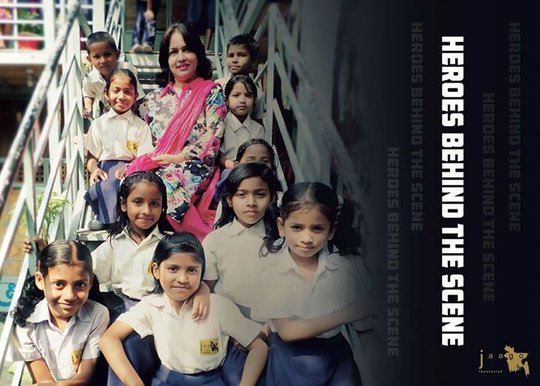 Heroes behind the Scene: Ms. Ayesha Rahman
Ms. Rahman is one of the many essential pillars of the JAAGO schooling program. She is the senior education coordinator of the JAAGO School in Banani. A highly qualified professional, Ms. Rahman holds a prestigious Master's degree in Human Resource alongside a six years teaching experience. Ms. Rahman treasures the time she spends with her students at JAAGO. She feels she can reach her true professional and humanitarian potential with her work at the school. In her words, the children give her a sense of mental peace which to her is the best work satisfaction in the world. It is only because of JAAGO members like her that our initiatives have come where they are today.
JAAGO students strikes 100% again
The second batch of 22 JAAGO students sitting for the PSC Examinations has lived up to the reputation of their seniors. They have achieved 100% passing rate in the examinations with flying colors and done JAAGO proud once again
Badminton Tournament: Game on point
Bangladesh always had a long standing love story with Badminton. Lanes can be seen adorned with badminton nets during the month of winter. Badminton is every Bengali's favorite past time when the temperature drops. This year even after winter bid its farewell Badminton season decided to stay back a bit longer at JAAGO. A week long practice session was followed by the actual tournament where four semifinalist teams participated. The adrenaline ran high amongst the participants and the audience where always kept at the edge of their seats! A hearty round of applause to the participating teams for their efforts.
Victory Day Celebrations at JAAGO: A timeless tale of gallantry retold
16th December is a day of immense pride for every Bangladeshi. The JAAGO Foundation and its students are no different. Every year the students organize an elaborate series of events to commemorate this day. This year the students indulged their audience in a dance drama that depicted the liberation war with a surprising flair. The audience sang along to the chorus's beautiful songs of freedom. A poetry recitation was staged along with an art competition. The students brought out a rally to mark the occasion. A price distribution ceremony was held to acknowledge the students' efforts.Freedom fighter and ex director, Ansar VDP Mr. Md. Abdul Hannan graced the JAAGO School at Banani to share stories of war with the students.
A Thank You Note!

We graciously thank all our sponsors for the wonderful difference they have made into the life of hundreds deprived children. Your contribution means a lot to us. Every penny you donate will change the course of a life merged in dire poverty. By contributing only a minimum amount of USD $20 per month under JAAGO's 'Sponsor a Child' program, you can also be a part of our family. Your donation will bear the educational expenditures of one particular child. If you intend to become a donor, please hop in to our 'Sponsor a Child' page and then visit our 'GlobalGiving Project Report' page to start donation! Every child is precious and with your help we can make a difference in their life together. Thank you so much again for supporting us in our cause!