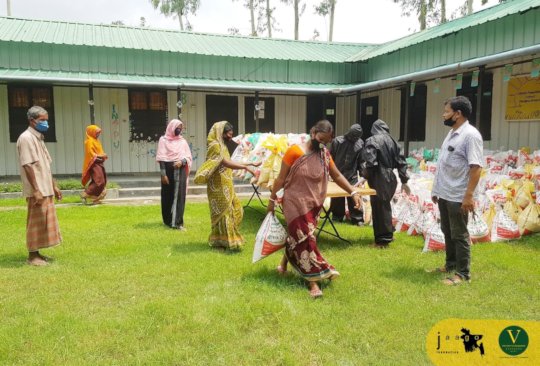 The whole world is now battling against the deadly COVID-19 disease and the marginalized community among us has been affected the most during this pandemic. The first confirmed coronavirus case in Bangladesh was reported in March 2020. Almost six months have passed till then, and almost 3.5 lakh cases have been detected and approximately 5000 people have died. To control the community transmission of this disease, our government declared a lockdown across the nation from 23 March, which is still ongoing. All the educational institutions have been shut down and exams have been postponed. The future of these students has met an uncertainty but they are not the ones who have been affected worst in this lockdown.
JAAGO Foundation has always dreamt of a better tomorrow, where everyone's rights will be ensured, no matter what economic background they hail from. We have always been enthusiastic to work for the betterment of our marginalized community. Giving education to the underprivileged children and working for Youth Empowerment has always been our major focus. But in this tough time, we have gathered to reach people in need with our helping hands, and hence, we have created a fund to distribute relief among people, affected by this pandemic.
Bangladesh Fighting with COVID-19
According to the experts, the second wave of COVID-19 has already hit the country. So there is a chance of an increase in the detection of new cases and deaths due to the infection as well. Our government has already taken the necessary initiatives to tackle the upcoming surge.
Being a developing country, a lot of people in Bangladesh are living below the poverty line. These marginalized people are mostly day laborers, who have lost their jobs in this lockdown. Our government has provided them with aid to fulfill their basic needs but that is not enough. Meanwhile, lots of organizations have come forward to help them, but due to the lack of proper supervision, often people who are actually in need of help are getting deprived. And this is what makes JAAGO different from other organizations. We have conducted a long screening process to reach families who are in actual need.
Relief Distribution by JAAGO In This Pandemic
JAAGO has already conducted its relief distribution project in ten districts, including Dhaka, Chattogram, Rangpur, Dinajpur, Gaibandha, Madaripur, Rajshahi, Habiganj, Bandarban, and Teknaf. Many lower-middle-class families around us are facing financial problems, as their breadwinners have lost their jobs during this pandemic. And through this program, JAAGO has reached out to these families and helped them put food on their table.
'Volunteer for Bangladesh', a wing of JAAGO Foundation, worked tirelessly to distribute our food packages among these lower-middle-class families in different parts of the country. Our volunteers strictly maintained social distancing while executing this program. They had talked with the locals as well, to raise awareness among them about the dos and don'ts during this pandemic. We performed our distribution in these districts, using our schools as relief centers.
The biggest challenge of this program was to find out the Middle-Income Families who were in actual need, not the illegal beneficiaries. To make the process transparent, we took help from social media, distributed online-forms, took interviews from the candidates through phone calls, and verified their information. After all these procedures, we were able to create a database of families who were in need of our help. Keeping the identities of these people private, we sent relief packages to them. Meanwhile, during this pandemic, Bangladesh was affected by the super cyclone Amphan and monsoon flood, which affected a large number of our people. JAAGO Foundation came forward to help the affected ones this time as well.
Around 96,000 people have already benefited from our COVID-19 relief program. With your love and support, JAAGO has brought smiles on their faces through this program.
Gratitude Note
Today's world is facing the biggest crisis of this century. We have to fight this battle together to win against this invisible enemy. Along with our volunteers, JAAGO is determined to move forward overcoming all the obstacles. This journey couldn't have been possible without our NGO partners, corporates, donors, and well-wishers who have been our constant companions in fulfilling this goal. We express our heartfelt appreciation for your kindness. It is your love and support which inspires us to move forward and do better.