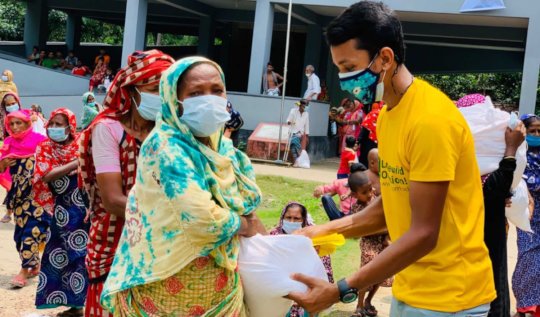 JAAGO Foundation was one of the active responders when COVID-19 hit Bangladesh last year. JAAGO and its youth volunteers worked together towards helping families in the communities through the relief drive.
This year in August, JAAGO Foundation continued the initiative for the underprivileged people and responded to the humanitarian crisis by providing food support. Considering the high risk of COVID, our volunteers reached out to the needy people of the most vulnerable areas of Bangladesh in the Rajshahi and Khulna districts. We started the relief drive on 7th August with the support of IPDC Finance Ltd. Our volunteers provided hundreds of relief packs in Murli Jora Mandir, Jessore Sadar and Sapura, Boalia of Rajshahi.
National Credit and Commerce Bank Ltd (NCCB) also supported JAAGO Foundation providing thousands of relief packs to underprivileged people. From 13th to 14th August, our volunteers distributed COVID relief packs to Jaypurhat, Naogaon, Magura, Satkhira, Khalispur (Khulna), Jashore, Kushtia, Rajshahi, Sirajganj, and Pabna districts.
United Commercial Bank Limited (UCB) Ltd is a socially responsible bank concerned about giving back to society. We provided COVID relief funds to thousands of families in the most deprived areas of Bangladesh, Rajshahi and Khulna, with their support.
Each of the families got 8 kgs of rice, 1 kg of flour, 2 kgs of lentils, 2 kgs of potato, 1ltr of oil, 1 kg of salt, and so on, including soaps and masks. The volunteers and the management team maintained proper hygiene and social distancing in the distribution areas.

However, people are still suffering and dealing with the economic impact the pandemic has caused. Though many corporates have come forward, we still need your support. By maintaining proper safety measures, we resumed our relief activity again to help those in need and helped them overcome a few of the challenges they faced. But they still need your help!
JAAGO Foundation has been working hard to solve problems and take required steps through various initiatives throughout the epidemic. Your assistance will be a driving factor in our efforts to work more effectively for the underprivileged. We are eternally grateful to the generous people and organisations that have assisted us in getting this far. We could not have accomplished so much without the aid of all of our supporters, partners, contributors, and, of course, volunteers who labour on the front lines to directly assist the people of our nation. We look forward to your support!