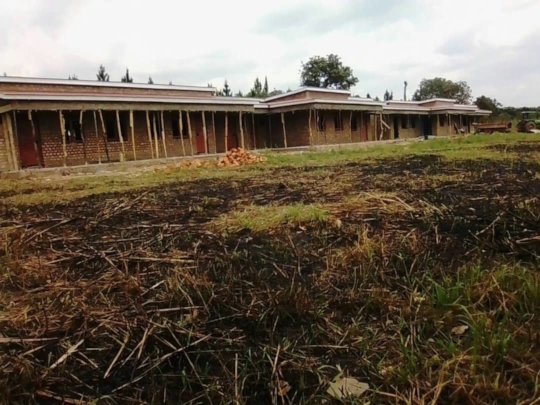 Dear Friends,
It is a great pleasure and excitement for us to announce: that we are almost completing the construction of the Agape Christian Nursery school in Koro, Omoro District. The school has clean water, too!
The school will support some of the greatest challenges this region faces- Education. Quality education is required to accelerate the country's socio-economic development by making the population functionally literate and productive. Conflict and instability have plagued northern Uganda for decades, yielding severe consequences for the protection of people and their rights. Children and education systems suffer greatly from the consequences of war and violence, and the instability in northern Uganda is no exception to this trend.
Although education has the potential to be life-saving and life-sustaining, children and entire communities are being denied of their right to education. The Lord's Resistance Army (LRA) was notorious for abducting children from schools in northern Uganda, which further impacts already-suffering enrollment rates and quality levels. Although the LRA has now migrated into the Democratic Republic of Congo and the Central Africa Republic, there are still the issues of post-conflict in northern Uganda, and the region continues to suffer from the effect instability and violence.
Northern Uganda is 'lagging' behind the rest of Uganda across a range of development dimensions, in terms of education access, the conflict-affected Acholi sub-region of Northern Uganda fares relatively well. The poverty decline in Uganda has not been experienced uniformly across the country. In the Northern region of Uganda, for example, poverty decline has been modest at only approximately 17% since 1992/93. This is compared to substantial progress made in the West and Central regions of Uganda, where poverty has declined by around 60% since 1992/3 (World Bank, 2007b: 3).
The northern region has the highest poverty rate, highest annual average population growth, highest fertility levels, the highest proportion of people living in a hut and the lowest proportion of people owning a mobile phone. Quality education is in short supply in northern Uganda. Children and their families are caught in a vicious circle of poverty and ignorance. They are unable to break the shackles of the gripping poverty and ignorance.
Quality education is a major way to deal with this dire situation and that is why Agape Christian Nursery School is founded. Agape Christian Nursery School will be a community education Centre that will provide education to the vulnerable and shall admit children between the ages of 2.5 to 5 years, for a full day five days a week program.
Agape Kindergarten School will initially offer pre-primary education to 50 learners and in the near future offer primary education. We believe that we can break the cycle of poverty by building the minds of the communities by improving their quality of life through creative early childhood development programs.
We believe that we can break the cycle of poverty if children are empowered to develop skills, vision and drive to make improvements to their community. We shall find inexpensive solutions that are not complicated. We shall use low-cost and practical ways, using local resources, to bring about lasting change. We plan to open the school in February 2019. Much is still needed to support this school. We need to build a playground for children, purchase scholastic materials.
We reach out to you for support to get this school running for the children who are all eager to start learning. Join us on a journey of providing a future for children and see them explore their potentials. Please share this journey with your friends and watch how we shall grow together. I encourage you to consider signing up for a monthly recurring donation today.
Thank you for your support!