Poor women around the country are forging the pathway to a better future for themselves, their families, and their communities. At Karin community initiatives Uganda, we are always thinking about the specific needs of poor women and families and how we can empower families and groups to escape the vicious circle of poverty.

These previous months have been promising, we are thrilled to see , in particular, how diary farming is transforming the lives of families in our community Gulu. It should ne noted that dairy production plays an important economic and nutritional role in the lives of many people in Uganda, in particular our Gulu community. However, rearing livestock has traditionally been expensive as livestock such as cows are expensive to purchase, take a lot of space and suck up a lot of money for feed and maintenance, leaving poor farmers to rarely see a significant return on investment in these animals, let alone compete with larger livestock producers in the country.

By distributing cows to local farmers groups, we have registered tremendous progress in the productivity of these animals and we strongly believe this can and will put women and their children on the road to economic empowerment. In the picture, KCIU Executive Director together with Mr. John Bosco .L. (Board member) are handing over a cow to Catherine, one of the beneficiaries in our local farmer groups in Gulu. These small-scale farmers will also continue to be trained in modern and improved farming methods like hay making to increase productivity of the animals so as not to miss out on the prospects of increasing their incomes from diary production.

By helping to support Catherine's efforts, you're enabling hundreds of other women in her area to see and learn better ways of earning income and feeding their families, learn crucial agricultural and financial skills-- skills which will enable her and her community to economic growth and empowerment.

Access to appropriate financial services through our women in micro finance initiative has also enabled women and families to build assets, manage risk -- and keep their children in school. Women groups in Agonga have been empowered to make artifacts, hand bags and energy saving cooking stoves that are friendly to the envionment and have a high demand on both local and international markets.


Links: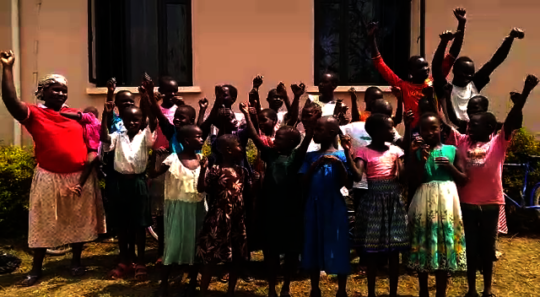 Mid January this year, children in our community who are beneficiaries to Karin's Child sponsorship program had a party to cerebrate their accomplished milestones. This is a program that helps the vulnerable children attain education by paying their tuition and other school necessities.
Children who didn't dream of ever attaining formal education in life are having their dreams come true and despite the challenges most of these children go through at home before starting school in the morning, most of them defy the odds and go on to excel highly and are promoted to higher class levels.
Significant barriers to education in Northern Uganda especially in our community Gulu include poverty, child labor and unequal access to education due to gender and cultural factors. Karin Community Initiatives through its women empowerment programs is making tremendous strides in equiping families with self help programs for example cows for diary farming, energy cooking stove making and artifacts making so that women can earn a living, feed their families and take their children to school.

Poverty also affects the quality of schools and the quality of education these children receive in our community. Since most of the existing schools were abandoned during the war which devastated the community in the previous years, the quality of education has also dwindled. Karin thus addressed this challenge by embarking on a school construction project.
Through the Agape Christian school project, KCIU envisions a world where all children have opportunities to develop their skills and talents and the chance to reach their full potential. Its sole mission is to improve the quality of life of deprived children in rural Northern Uganda though creative early childhood development programs that build their minds and spirits and empower the communities to change their lives for the better. At least 50% of the pupils from poor families will get tution-free education.
Links:
In the previous year, Our outpatient diagnosis (OPD) for our two health facilities registered 3,453 patients for Agonga health facility and 3,360 patients for Unyama health facility totalling to 6,813 cases . Out of this, over 370 children have been immunised at our health facilities. Malaria which had the highest prevalence was at 1,676 higher than what was registered in 2016. Cough among children amounted to 826 cases and Pneumonia reduced to 263 cases.

As you can see, we are already on our path to building a healthier community with resilience. A community where mothers and children can access basic quality health care at an affordable cost.

We strongly believe that no mother should die while giving birth in this current generation. Bringing life to into this world should not suddenly result into an end of a mother's life. On 29 December 2018, 3 months from now, we launched our first annual fundraising dinner, a medical camp and charity run to raise money for equipping our new maternity ward at our health facility in Unyama, Gulu - Uganda. We were mesmerised by the huge support from the local community and other stakeholders. Mothers in Gulu now have hope for safe deliveries.

Despite the challenges, our continued community outreaches together with village health teams (VHT) continue to encourage mothers to take their children for routine immunisation. Our community outreach programs continue to play a vital role in educating families about nutrition. This explains the increase in the number of immunised children compared to the previous year. Outreach programs are also being used to senstize the community about our community health insurance (CHI), an insurance scheme we started to help mothers access healthcare at the lowest cost possible.

With your continued support, we are certain that women and children in our community will have the opportunity to access quality healthcare and live healthier lives. Vital drugs will be available in our health facilities and modern equipment will be acquired. When families are healthy, they are economically productive and can build wealth for-themselves.
Please continue supporting this project – you'll help so many women and their families fight the malaria epidemic in our community and live productive lives.

Links:
WARNING: Javascript is currently disabled or is not available in your browser. GlobalGiving makes extensive use of Javascript and will not function properly with Javascript disabled.
Please enable Javascript
and refresh this page.