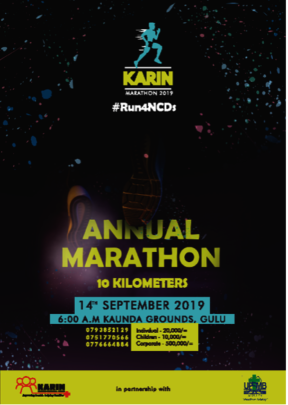 NUTRITION
A healthy baby builds a wealthy family
During this month, KCIU aimed at improving the nutrition status of babies and the families where they come from as a sickly baby, calls for continuous hospital visits and hence spending. A number of activities have been carried out to improve the nutrition level and the health status of babies and their mothers
OUTREACH PROGRAM
KCIU through its outreach program has continued to deliver medical to areas with limited access to up to date developments, during this month, KCIU has managed to reach over 2000 people providing services such as malaria tests and treatment, HIV testing and counselling, and a number of other tests, further more during this program, KCIU has guided people on how to feed and maintain a healthy body so that they can raise proper families, they are also trained to save for life through the savings for health program(CHI).
MARATHON AND MEDICAL CAMPS
This year KCIU is holding its second annual marathon and this time it is coming with giving back to the community through health medical camps that will last for a period of one week starting Monday 9th September and will be climaxed by the marathon on Saturday 14th September 2019. The marathon is intended to fundraise for the purchase of NCD diagnosing and treatment equipment that will help in the diagnosing of non-communicable diseases to help de congest the referral hospitals in the Acholi sub region. The medical camps will be used to collect information through screening for NCDs and giving of startup medication if found positive.
NON COMMUNICABLE DISEASES THE NEW SILENT KILLERS.
Gulu district is a big district with very few health facilities, many people travel miles to go to the Regional referral hospital for just a glucose test or a cancer scan, many elderly people have lived with non- communicable diseases such as high blood pressure, diabetes for many years and they only remember to go to health facilities when it is too late.
KCIU health facilities being strategically located in the remote sub counties of Gulu in Unyama and Bungatira would like to raise funds this year, through their annual marathon planned on the 14th of September 2019 and all the proceeds collected will be directed towards the purchase of NCD diagnosis and treatment machines to support all kinds of people especially the elderly who these silent killers are mainly attacking.
With early diagnosis, treatment and a complete referral network, several risk factors are to be eliminated and hence saving lives. Patients and care givers do not have to bear the pain of seeing their elderly family members die or loose body parts through amputation because they did not have money and means to make it to the referral hospitals for testing and early treatment.
Sadly, Ruth and her family have been traumatised by the recent death of her father, due to a related non communicable disease.
On one fate full Tuesday morning, Ruth hopped on a motocycle with her 64 year old hypertensive and diabetic father to one of the KCIU health facilities, she could not handle the pain her father was going through and tears kept rolling down her eyes. Ruth explained to the nurses that he had been convulsing and losing consciousness for the last two weeks and did not know what was wrong. On making a quick glucose test he was discovered to be very ill but KCIU would not afford any other treatment as they do not have treatment mechanisms for such diseases and the in charge decided to refer them to the nearest referral hospital. After three weeks, Ruth returned to the health facility to inform us that her beloved father had lost his battle to diabetes because of late detection and the disease had destroyed his inner organs. With the acquisition of NCD treatment components, KCIU will be able to carry out early diagnosis on the people living in rural areas and offer early treatment for such diseases. This will help check on the rising number of deaths.
On 14th September, the medical camp and marathon will be run to raise awareness about non- communicable diseases.
We value the support that you can give towards this cause. us to support. We value your continued support and it is for this reason that we ask you to share our global giving page with your contacts and tell them why you decide to donate to us and why they should do the same.
We also encourage you to sign up for a monthly recurring donation today.
Thank you for your support!
Links: