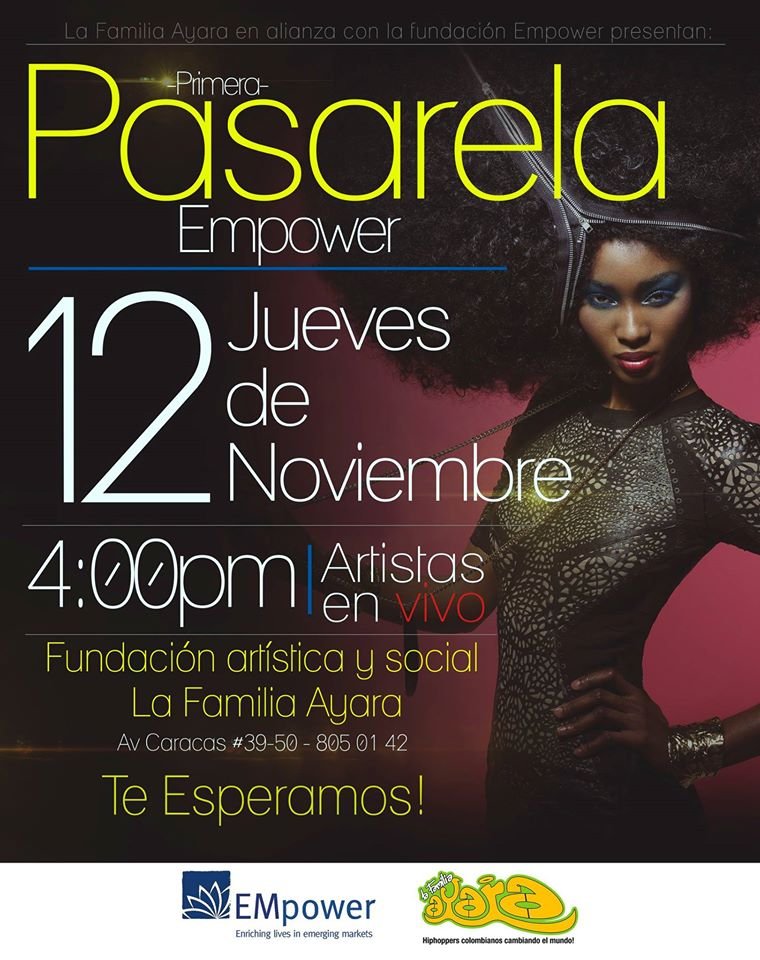 In this year 2015, we have developed through EM.Powerful Women whit Hip Hop, two important activities that contributed to the empowerment of women, and the dissemination of the project in different scenarios
In November 12 was held the EM-Power Gateway with the participation of several of the beneficiaries, during the event several entrepreneurial initiatives as accessory design, fashion design, screen printing, stylists, workshops break dance, Hip Hop and Dance Hall.
The principal purpose of this event, was to show the essence of business ideas and entrepreneurship of several of the women. Throughout the evening guests enjoyed a wide range and offers products detached from these initiatives.
Such activities encourage entrepreneurs that can demonstrate close the acceptance of their products, which in this case was fully satisfactory, and that the guests showed their interest in them.
As important results, it is noteworthy that the seed of dance hall have reached their professionalism and this year have been hired to choreograph a video of the group Chocquibtown and one of the group Prophets, achieving generate resources for eight (8) young women process. Video Choc Quib Town for the prevention of teenage pregnancy (Bio Yuz project participant): https://www.youtube.com/watch?v=O7gA2ezEMRs
Further, it has generated direct employment for two of the women leaders of the process, one of the entrepreneurship and one of the participants of the diploma:
Name: Julieth
Carge: Dance hall teacher in Cucuta
Time: 2 months
Salary - $3.076.000
Name: Fernanda
Carge: proyect coordinator "Unidades Móviles ICBF"
TIME : 4 months
SALARY: $14.400.000
NAME: Eliana
CARGE: M&E – Fundación Son Batá
TIME: 6 months
SALARY: $18.000.000
NAME:Keigtlin
CARGE:Curtural centre coordinator
TIME:12 months
SALARY: $12.000.000
On November 18, the second meeting was held " I Encuentro "Mujeres Jóvenes a Ritmo de Hip Hop por la Paz" was attended on the table setup:
• Bethlehem Sanz. Country Representative of the UN Entity for Gender Equality and the Empowerment of Women. UN Women.
• Susana Rodriguez Ombudsman for Women and Gender Ombudsman
• Marina Gallego Director and legal representative of the organization of women: Ruta Pacifica Women
• Angelica Bernal - Secretary of Women.
• Claudia Mosquera - Professor and researcher at the Center of thought and monitoring the peace talks at the National University of Colombia.
This space facilitated the positioning process in academia, the public sector and international cooperation
The comprehensiveness of the project from the social, artistic and communicative area allows the development of the proposed impact and believable from beginning to end, since all results are experienced personally and reaffirmed through other languages are explored not only by beneficiaries but also for those around them.
Within the meeting, a productive fair in which entrepreneurship initiatives also had an important role in this space was enhanced.